The month of July was going to spent in Split, Croatia. I was excited for this month for multiple reasons. The month did not disappoint and was a month full of my new catch phrase "No Bad Days".
Remote Year Darien Reunion - Part Two
Croatia would bring me back together with several of my friends from my Remote Year Darien group. It was great to spend time together again, especially since our reunion in June seemed to go by too fast. We had lunches, and dinners. We celebrated birthdays. We went rafting. We reunited with our Broatia Captain Bruno. It was great to spend time with them all and make more memories together.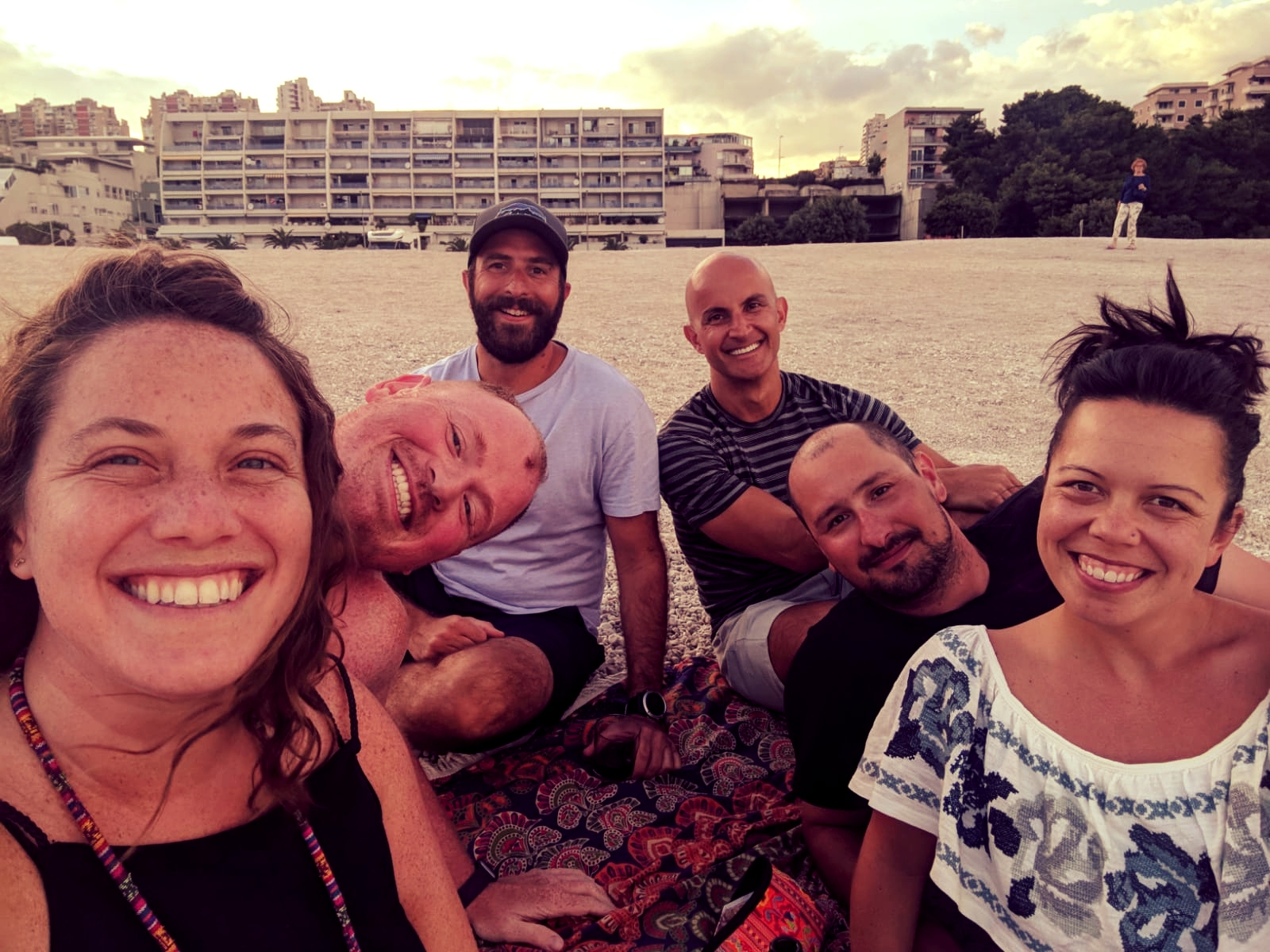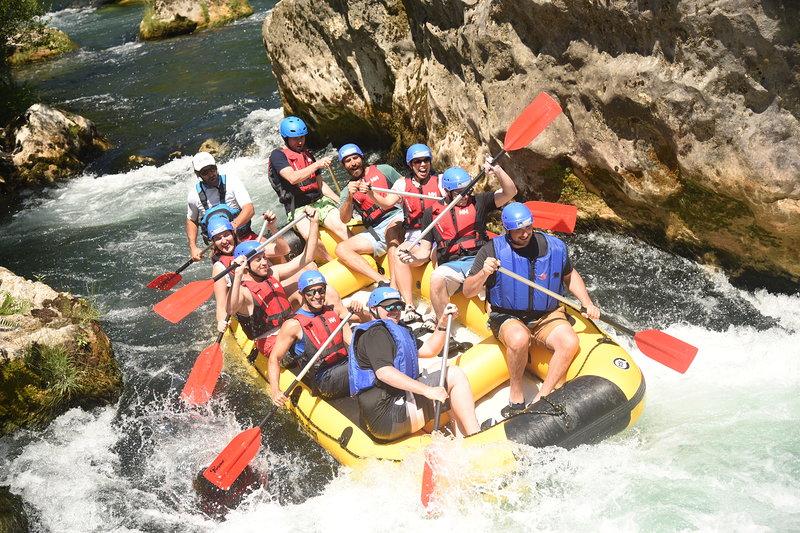 Day Trip to Hvar
Hvar is an island near Split. It is about an hour ferry ride away. One Sunday a group of us made the trek over there to spend the day. We started by going to a restaurant to have Burritos. One thing I always miss when traveling is Mexican food. This burrito helped me fill that void. After Burritos we walked around Hvar, and ended up sitting by the ocean all day. We talked, swam, and just soaked up the sun. Hvar has some crazy signs on the sidewalks, and they are quite comical. To see what I am talking about, check out the pics below. On the ferry ride home, we sat at the front as the sun started going down. As the ride continued, I found myself looking at an amazing sunset as we moved across the Adriatic back to Split. It was the perfect ending to a great day.
World Cup 2018
When planning this trip, I was excited to know I would be in Europe for the World Cup. Europe takes its football (Soccer to us American folk) very seriously. People watch games in masses and it is quite a spectacle. When I arrived in Croatia, it was exciting that they were still in the World Cup and I had no inclination that they would go as far as they did. It started with one game, and they won that game. Then they won the next, and the next, and before you know it, they were playing in the World Cup final. To be in Croatia during all of this, was truly special. We would mostly watch the games at the Fan Zone in a park outside the Old Town of Split. One game we watched at a local restaurant with a bunch of Croatians. The people of Croatia were so excited. There were two Remote City managers who were both Croatian and it was so cool to see their excitement firsthand as they watched their country play in the most prestigious football tournament in the world and go as far as they did. In the end, they did not win, but you would not have known it. After the final game, the people celebrated as if they won. All of the major cities welcomed home the team with large parties. It was so cool to be there for, and will be a memory that I will always remember.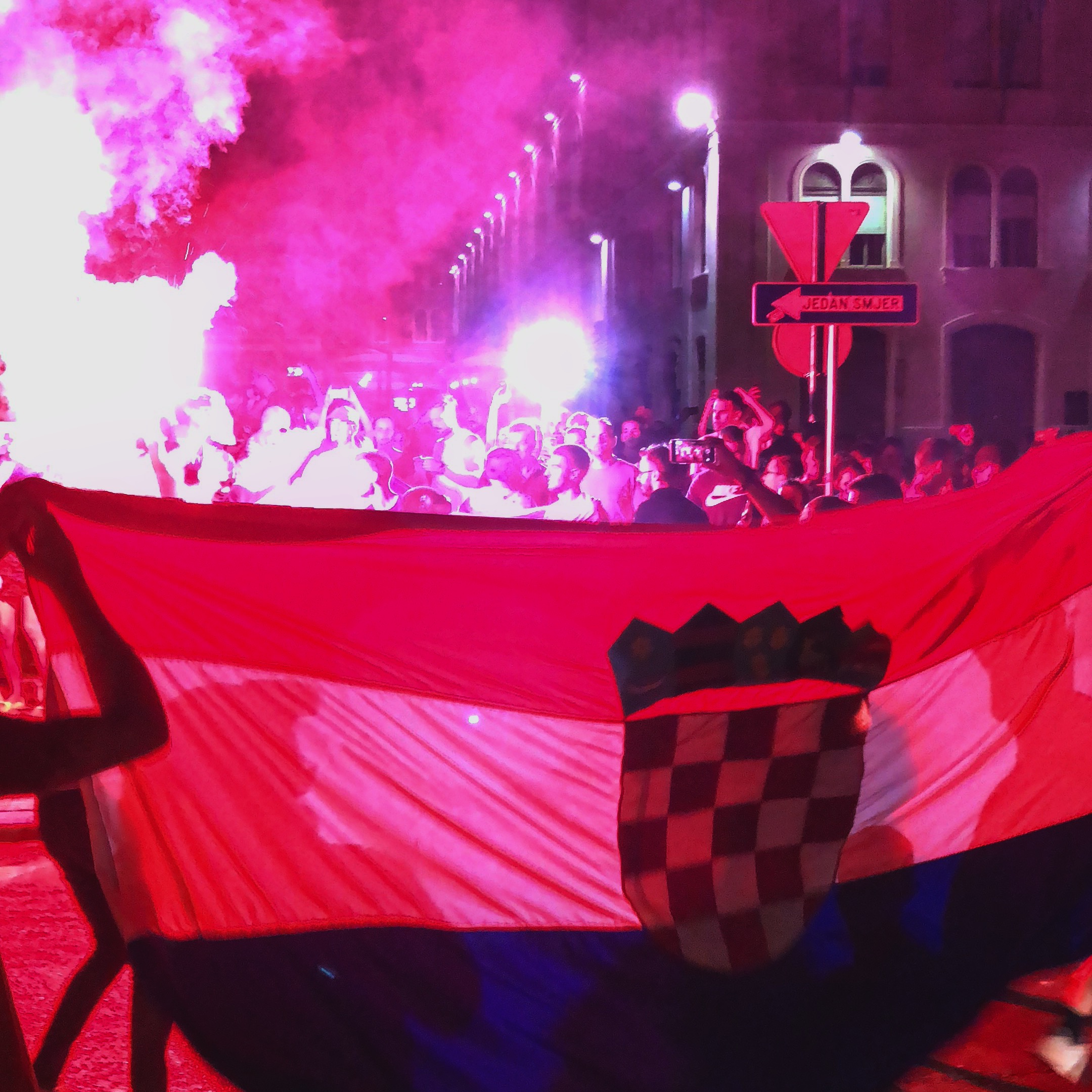 Remote Year Ohana
I was not sure what to expect when joining a Remote Year group. Would they be open to outsiders? I was excited to meet new people, and experience Remote Year a different way from how I did it. I definitely did that, and then some. It was a great month in their presence. The group was super friendly, very welcoming, and I made some great connections with the people of the group. They were inclusive, and I truly felt like a member of their group the whole month. Their were a couple of times we watched the sunrise after a night out. We did some night swimming in the Adriatic. We did acts of kindness for others in the Old Town. We celebrated birthdays, ate homemade meals, did Q&A's, laughed, mini bowled, had deep conversations, and much more. Thank you to all of them for being so friendly and welcoming. We also had a great workspace, which was right on the water. It was great to take a break from doing things and walk by the sea and take it in. Split was one of my favorite Remote Year cities.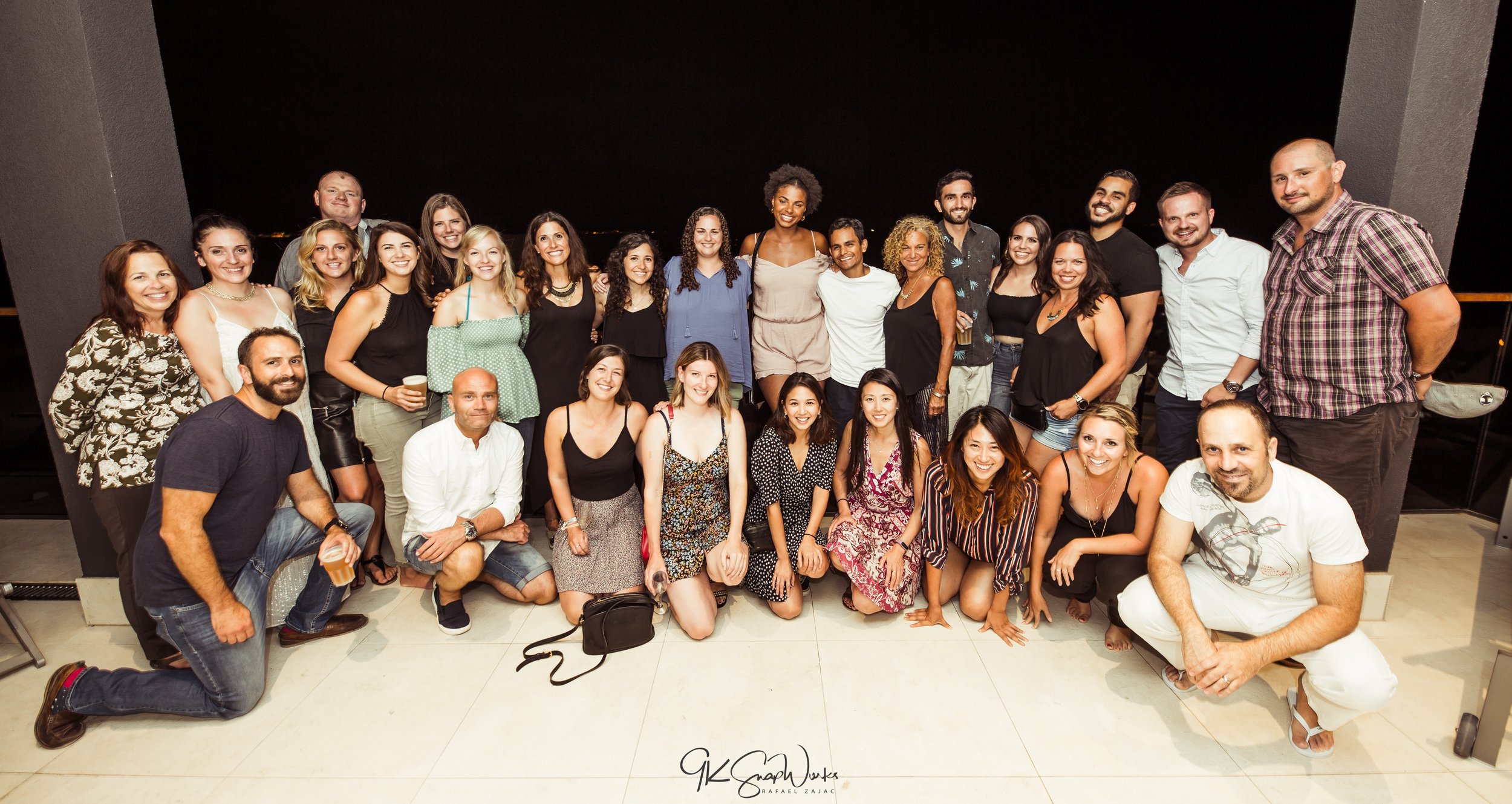 Remote Year Track Events
One of the amazing things that come with being a Remote Year participant are the local events they put on in each city. These are called Tracks. They are events that are geared towards blending the Remotes with locals. I had some amazing experiences during my Remote Year, so I was excited to experience tracks again when in Croatia and of course they didn't disappoint. My first track was going to a local shipyard in Croatia. This shipyard is the largest in Croatia and we got an insider tour into all that goes on with building some of the big boats you see out on the water. It was awesome to see first hand and our guide was super passionate about sharing it all with us. My second event was going to a local brewery. This brewery was the first craft brewery in Split. It was a super fascinating story to see how they started, and how they continue to grow and compete with all the big name beers in Croatia. We also got to have a few samples directly from the source. My next track event was a trip to a fish farm on the island of Solta. This was another awesome experience. We were met by our host Igor, who showed every aspect of his fish farm, and cooked us a homemade meal that consisted of fresh fish, of course. The fish were cooked whole, and we ate them that way. After the meal, we then swam out to the fish farm, and swam with the fish. The particular part we were in had 18,000 or so fish in it. Also, during this event, we were visited by a guest who is working to help locals battle the tourism industry and explained the damage tourism can have on the country. It was a fascinating day all around. The track events in Croatia did not disappoint at all.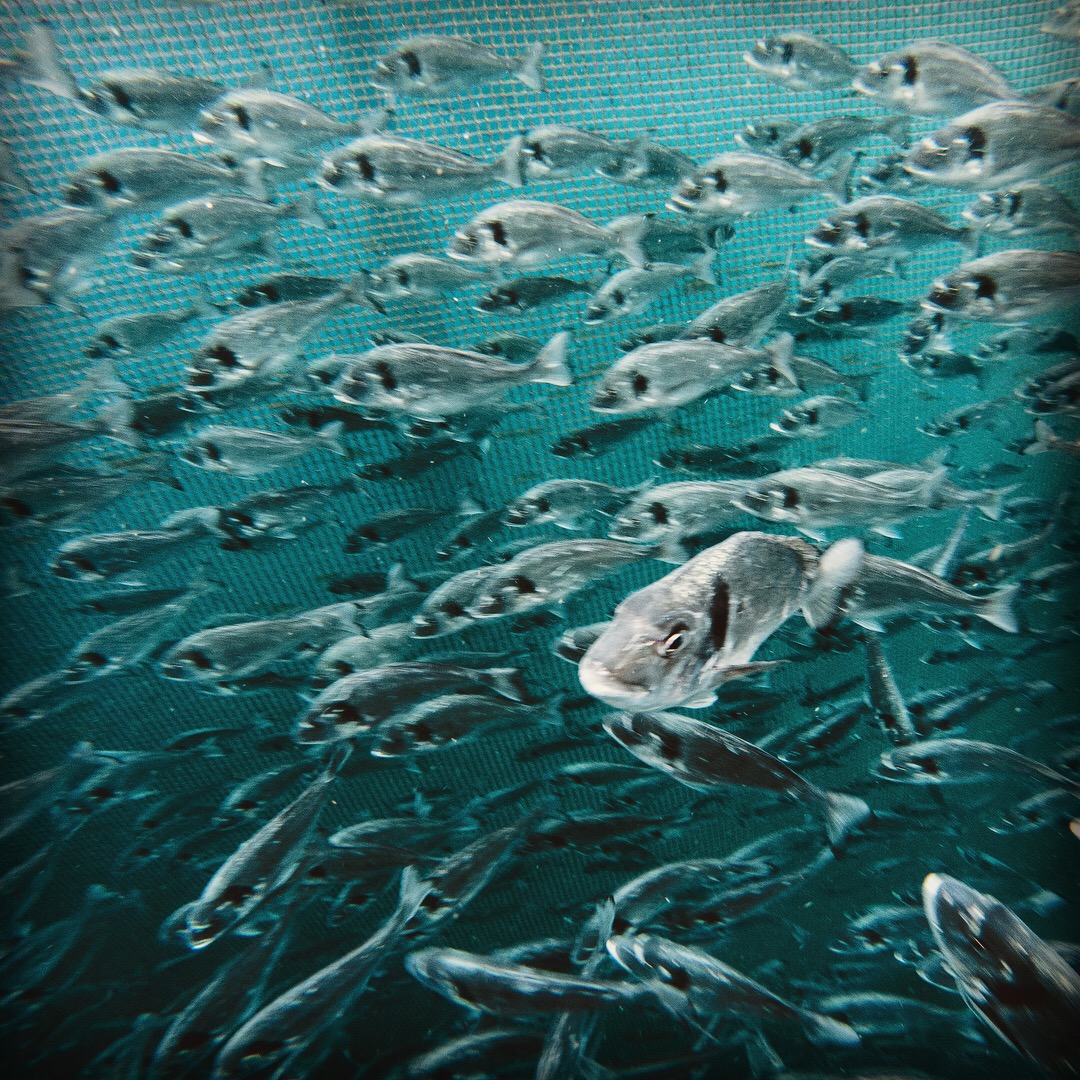 Vis
The last time I was in Croatia, I spent a day in Vis and loved it. When I was there I saw my favorite sunset of all time. I made a vow that if I ever returned to Croatia, I would go back to Vis. Well, I did it. A couple of my friends had planned a trip there. I had some work to do, so I could only join for the tail end of the trip, and it was still awesome. They met me at the ferry station with their scooters. I hopped on and we cruised around the island. We stopped at a beach, had a beer, and then got back the scooters and headed to the town we were staying in. We hung by the beach and killed some time. We had a special dinner reservation that evening. The restaurant we were going to was the same restaurant I went to when I was last there and the place where I tried Octopus for the first time. It made me fall in love with Octopus and I have rarely had Octopus after that without thinking of this place. I was worried, was it going to be the same? It was perfect the first time. I worried if I was ruining that experience by going again? These were the questions that popped in my head. Our ride picked us up right on time. We hopped in, the driver did not speak english, and just smiled at us. He pointed to a blank CD he had, and gave us a look asking if we wanted to listen to it. We said yes with excitement, full of anticipation, and wondering what the blank CD had on it. It was full of classic rock, and we rocked out as we made our way to restaurant. We arrived, got our table, and ironically, had the same waiter from when I was there before. You have to place your order ahead of time at this place, as they need several hours to prep what they call Peka. Peka is meat and vegetables cooked in a bell shaped pot on a grill. It slow cooks for several hours. We ordered an Octopus and Lamb Peka. They arrived at our table, they removed the covers, and revealed them to us. They smelled amazing, and looked just like I remembered. It then came time to take that first bite. I moved the fork towards my mouth, and when I took that first taste, a rush of memories came back and it was just like I remembered it. We took our time. We enjoyed the meal, some Croatian wine, dessert, and ended the meal with a Turkish coffee. It was perfect. We then spent the rest of the night at a beach side bar, watching the moon set on the Adriatic. The next day we got up and headed back to Split. It was another successful trip to Vis. I hope to go back again someday.
A Month Comes to An End
As they say, all good things must come to an end. As time ticked on, this was the case for my time in Croatia. Remote Year does a farewell event at the end of each month. It is a nice way to reflect on the month, and celebrate being in a place for a month. I always liked them, but they were particularly bittersweet in places that I loved as you knew it would be time to move on. Those same feelings were present this time, but it was different because I would not be moving on with this group. The farewell event was on a rooftop with a beautiful view of the city. It was great to chat with the group and spend a little bit more time with them. We would then move the party to a place called Fabrique which was a place I frequented during my time in Split and made some really great memories there. The last night was spent having dinner with my roommate. The next day I got on a train, and headed to Zagreb, Croatia. I was feeling a little under the weather, and it progressively got worse. My second day in Zagreb, I had a fever, and my throat was painfully sore. I stayed in bed all day, hoping it was just my body telling me to slow it down. I wasn't getting any better, and noticed some large white spots on my tonsils, which is usually an indicator of an infection or strep, and I knew I needed to go to a doctor. I have travel insurance and they recommended a place near me that spoke English. I tried to call them to make an appointment but could not get through. It was only a 15 minute walk away, so I decided to just go there in person and see if they could get me in. They were booked up and I had to wait until the next day to see a doctor. This was the day my friend Dan was getting into Zagreb, and the next day we were set to get on a train in the afternoon to head to Slovenia. I made an appointment for the next day, got some antibiotics, and was feeling better by the first night in Slovenia. It is a weird feeling being sick and alone in a foreign country. It makes you appreciate having people in your life that look over you when you don't feel well, but it also teaches you that you just have to fight through things on your own sometimes. The month ended on that note, and the next part of my journey would begin on a train from Croatia to Slovenia. The rest of the summer was a hell of an adventure, and I look forward to sharing that in my next post.
Thank you so much for reading!