The first two months of my trip in Europe were nothing short of amazing. It was time spent with special people in my life, but mostly people who I've only known a short time. August would spent with people who have been a big part of my life for many years. We made some great memories along the way, and I would like to share that with everyone in this post.
The Road Trip
It started with a road trip with one of my best buddies Dan. Dan and I met sophomore year of college at Arizona State. We would go on to become neighbors, and great friends in college. As life progressed, we went through everything together, and he is always someone I can count on to be there for me. Dan flew into Zagreb, Croatia and met me there. We then took a train from Zagreb to Ljubljana, Slovenia. We rented a car in Slovenia, and would take our car from Slovenia, all the way to Paris over the course of 7 Days. One of the funniest moments from the trip was when we got to the rental car place and met the gentleman at the counter who would get us set up. He was a super happy, and helpful guy and provided one of the best rental car experiences I have ever had. When I was handing over my driver's license and credit card, I asked him if he needed to see my International Driver's Permit, that I obtained at AAA before I left? He laughed out loud, and he said "Hahaha, international driver's permit, that is an American Fairy Tale." This cracked both Dan and I up and would serve as a great inside joke the rest of the trip. Dan and I got in the car, and headed out to Lake Bled for our first stop on the 7 Day Road Trip.
Road Trip Statistics
I could talk in length about the road trip. It was a blast and full of great sites, great food, and most importantly, great company. We didn't really have a plan in place. We knew we had to be in Paris by a certain date, and we knew the direction we needed to go to get there, so we just headed that way and picked our stopping points as the days unfolded. It was a great trip full of beautiful sites, and spending time with one of my best friends. Instead of laying out the details in writing, I will lay down some stats and pictures that sum up the trip.
The Route
Miles Traveled: 1,067
Countries Visited: 5
Funicular Rides: 1
Johnny Cash Cover Band Concerts: 1
$40 Burger: 1 (Switzerland of course)
Laughs: Too many to count
An American In Paris
Dan and I arrived in Paris. Dan's wife was there with her sister and nieces, and we met up with them. We spent the next couple days exploring Paris. We hit all the spots you go to when it is your first time in Paris. We saw the Eiffel Tower, The Louvre, Arc De Triomphe, The Sacre Coeur, and took a sunset river cruise. It was great to spend time with them all. The time came and we all went our separate ways. I stayed in Paris a couple more days before I would be making my way to the south of France. On my first day on my own in Paris, I met up with my friend Drew, and the groom for the wedding I would be going to the following week. We had dinner and a few drinks and then in true Parisian style hit up a Cabaret Show. I was not sure what to expect, but it was actually well done, classy, had good music and funny all at the same time. The next day I would take a day trip to a place I have always wanted to visit.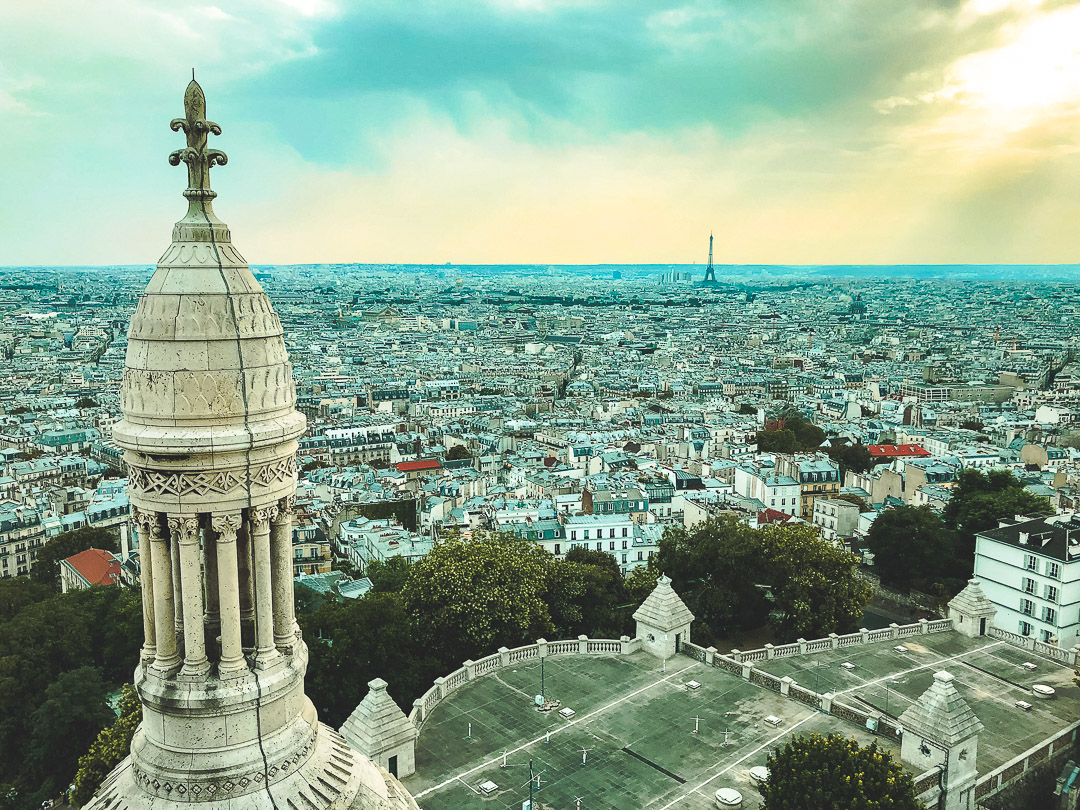 A Day in Normandy
I woke up the next day and joined a tour from Paris, that would take me to Normandy to explore the area of the D-Day Invasion. I have always loved history and this area has always been high on my list to visit. I spent the day exploring Normandy, Omaha Beach, Pointe Du Hoc, and the Normandy American Cemetery. To see this area, and reflect on all that went on here, was a humbling experience.
One Last Day In Paris
I headed back to Paris from Normandy and the next day would be my last in Paris. Another one of my really good friends Adam was getting into town that day. I was stoked to meet up with him and spend some time together. We met up in the Luxembourg Gardens, and then walked around, had lunch, went by the Cathedral at Notre Dame, and ended the day by having dinner. All and all, my time in Paris was great. I found the city to be beautiful and would definitely go back to there again someday.
Aix Marks the Spot
The next day I would hop on a train from Paris to Aix-Provence where I would spend the next 6 days. The main reason for heading to Aix-Provence was for the wedding of my good friend Melissa. Melissa and I have been friends since middle school. The train ride was very pretty. I had a window seat, and watched the French countryside pass me by, as I worked on editing photos from trip. The 3.5 hour train ride went by fast and I was now in Aix-Provence. I checked into my hotel and met up with some friends that were already there. We had a few drinks and then headed back to our hotel to get ready to head to dinner
Francis Mallmann Dinner
The dinner was going to be at one of Francis Mallmann's restaurants. Mallmann is a famous chef who has been featured on Chef's Table on Netflix. He is known for cooking by fire and his elaborate BBQ displays. A large group of people that were in town for the wedding were at the dinner. The food was great, but the company was even greater. We had a blast and called it a night by having one last drink in Aix.
Day Excursion in French Countryside
The next day Melissa planned a great day trip for us all. The trip would start in Les Baux de Provence which is a medieval fortified town. The town was full of cobblestone streets and stone buildings. It had a beautiful view of the French countryside. We walked around and explored all the village had to offer. We then headed to Mausole St. Paul. This was an area where Van Gogh spent some time and is said to have painted over 200 paintings here. After that we headed to lunch at a gentleman named Lolo's home. This was not an ordinary lunch or an ordinary home. Lolo is 93 years old, and hosts lunches at his home for guests. He cooks food, and allows people to explore his property. The property has been in his family since the mid 1600's. The home was cut out of a rock quarry, and was full of beautiful old tables, pictures and artifacts from his family's history. We enjoyed a lunch made by Lolo, drank wine, and soaked in all the history we could. It was a beautiful place and was an honor to have been able to eat a meal at Lolo's home. The next stop was at a museum which was in a quarry. Inside they use projectors to display famous artwork set to music on the rocks. We saw a cool tribute to Picasso during our time there. We then headed back to Aix-Provence. Alas, everyone was finally in town for the wedding and we met up, hung out and danced like it was college all over again.
Boat Trip and Rehearsal Dinner
The next day a small group of us headed to Marseille and hopped on a boat to spend an afternoon on the water. It was a beautiful day. After about an hour and a half in the boat we came to an area full of beautiful cliffs. Our captain mentioned that if we swim to the cliffs, there is a cave we can go into. He warned us that the water was cold, but the view in the cave was worth the swim. We put on some goggles and made the trek. Being a traveler I usually have some sort of camera with me, but in this particular case, I didn't. We arrived to the cave and it was gorgeous. The sun reflected up from the water beautifully. The water was crystal clear and for several minutes it was just my buddies and I in there. As great as it would have been to get a picture of it, the moment of just being with some of your best friends in such a beautiful place will be a memory I will hold in my head forever and don't need a picture to remind me. We got back on the boat, cruised around a little bit more, drank some Rose and Champagne and then headed back to Aix-Provence to get ready for the rehearsal dinner. The rehearsal dinner was at a Moroccan Restaurant called La Riad. Having spent 5 weeks in Morocco, I was excited to recognize the items on the menu. When I was in Morocco, we would eat Tajine's a lot, and I hadn't had one since leaving there. The Tajine came out and it was delicious. The meal was spent chatting with friends, soaking in the beautiful night, and making more memories. We went out for a little bit after, and then called it a night so we would be fresh for the wedding the next day.
The Wedding Day
The big day finally arrived. I spent the morning, walking around the city, exploring it a little bit, and taking some photos. A group of us then got together for lunch, and then went our separate ways to get suited up for the wedding. The wedding was about 30 minutes from Aix, so we would be shuttled there. We took the shuttle and were transported to a beautiful Chateau. The ceremony was outside, and the whole entire evening was beautiful. The ceremony, speeches, dinner, and dancing were all a blast. It was truly special to see one of your closest friends get married in such a wonderful place. The wedding went late, and the last shuttle was too full, so a few of us had to stay back and keep the party going. The next day was a little rough, but I made it to the brunch with all my luggage. I hung out for a little bit and then headed to the airport to make my way to Portugal for the next part of my visit.
Back to Portugal
After France, I headed to Lisbon to spend some time with my good buddy Sean. Sean and I were in Remote Year together, and friends for 10 years prior to that. Although I saw him in June at our reunion in Prague, we didn't get to spend a ton of time together. He is now living in Lisbon and this was going to be our chance to catch up and spend some quality time together. We did just that, we met up, had dinner, caught up on life, talked about what we were doing. Sean has been such an inspiration for how he is living his life and taking his job on the road to live the lifestyle he wants to live. I am super proud of all he has accomplished. Sean recently launched a Podcast talking with people who are embracing the Nomadic Lifestyle. Sean is passionate about the topic and it comes across in the interviews. You can check it out HERE if you want to give it a listen.
One of the things that Sean and I did on our first night was revisit a place we found when we were there with Remote Year. The place was called Time Out Market, and the reason we loved it was due to a certain dessert shop there that serves the best Chocolate Cake I have ever tasted. This summer was full of returning to places I love to eat and now the Chocolate Cake that I loved so much. Sean and I had dinner and it was without question that after dinner we would make the walk to that dessert stand in Time Out Market to enjoy a slice of that infamous Chocolate Cake. It was almost like my body walked there itself. I knew exactly where to go, and walked by places that were full of memories from my first time there. We arrived at the stand. There it was. THE Chocolate Cake. There were three pieces left. We stood patiently in line. The smile on my face was so big. The next person moves up in line, and we were one person closer to having that chocolate cake once again. Then they placed their order, the hostess behind the counter grabbed her knife and moved toward the chocolate cake. She took the platter out of the case. Sean and I looked at each other with looks of hope, and confusion on our faces. What if she takes all three, or worse takes two and leaves just one? Time came to a stop and we starred as it all went down. The hostess cut a slice, and put it into a to go box. Then went back to the cake. We both watched with anticipation of what would happen next. It almost felt like it was moving in slow motion. She then put the knife down, and grabbed the platter to put it back with two slices still left. We both looked at each other and breathed a sigh of relief. It was then our time. We ordered our two slices, she cut them up and served them to us on a beautiful plate. We found a seat. Sean had eaten the chocolate cake since he lived in Lisbon, but for me this was the first time since the last time. I took that first bite, and it was like a little piece of heaven was lifted into my mouth. We laughed and joked as we sat and ate the chocolate cake that we had talked about so much since leaving Portugal. We finished it up and that was it. Our first night was under our belts. Nothing else was needed for the night. We caught up and had the dessert we both love so much.
Lisbon was one of my favorite places during my time on Remote Year. It was mainly my favorite place because during that month, I fell in love with a girl. That love translated to my love of the city. That love has since ended, but my love for the city is still there. It took walking through those streets reliving the memories of falling in love to realize that the city itself is quite magical. It is rough around the edges, gritty, hilly, challenging, and full of life. It has history, art, cuisine, architecture, and the ocean. Revisiting old memories was part of the process, but the important thing was making new ones. I did that, I did it several different ways. I went to places I never went while I was there. I spent time with Sean, who I know, no matter how many miles apart we may be, we are always just a phone call away if we need a quick laugh, a quick opinion, or a quick inside joke. Lisbon was beautiful and although those old memories popped back up, they didn't impact like they had been known to in the past, and I was able to fall back in love with Lisbon a little different way this time.
Porto
After a couple of days in Lisbon, it was time to head north to Porto. I always wanted to go to Porto when I was in Portugal last, but never was able to make it work. I had heard great things and so the tail end of my time in Portugal would be spent in Porto. We drove up from Lisbon and arrived at our AirBnB. Porto has a different feel to it than Lisbon. It still has some similarities, but all and all is different. The first night, we met up with some friends from Arizona. Two of them were at the wedding I was at, so it was great to see them again, the other two I hadn't seen since leaving Arizona, so it was great to catch up with them as well. Our second day in Portugal was spent taking a drive to the Douro Valley. My friend Melissa who just got married and her now husband Stephen now joined our crew. We headed out in the morning to Douro Valley. The valley is about 2 hours outside of Porto and is home to all of the vineyards where Port Wine is made. We would drive through the valley and stop at a couple vineyards. We did a tasting at one of them, and had a blast cruising around and taking in all the sites the valley had to offer. We made it back to Porto just in time for Sunset, and caught a beautiful sunset. We watched it from a hill that overlooks the city. It was beautiful. We then had dinner our final dinner as a group. The next day I met up with all the crew who was leaving and said my see ya laters to them. I then took a few hours to explore Porto on my own and take some photos. I then met up with Sean and Tara who was also traveling with us. We found a nice cafe next to the water. Being the keen observers of society that we are, we noticed certain trends of the people who walked by. There were a lot of people wearing Levi's shirts and there were a lot of people posing for Instagram photos. We made a little game of it, and it turned into a fun afternoon. We then headed to a rooftop bar that had a large grass field. We sat in the grass, and hung out. We then went and had one last dinner in Porto. On our way home, we noticed a large amount of people hanging out. Our interest was sparked and we decided to check it out. It ended up being a place where locals hang out and play music. We struck up a conversation with a couple of them. We grabbed a couple drinks, and next thing you know, we are singing songs with them. Sean being the amazing guitar player he is, picked up the guitar and started to jam. There was a little drum there, so I grabbed that, and we played a couple songs. It was a blast. We then passed the instruments back to their owners, and listened to them play for a couple songs. It was a really fun way to end the night and my time in Portugal. The next day came and I packed up my bag to make my way to Ireland for the last leg of my European trip.
The Return to the Emerald Isle
I started the summer in Ireland, and the way I arranged it was to make my return flight to the states from there. It was cheaper to book a round-trip ticket when I was planning. I love Ireland, so going back was no problem at all. I arrived back in Dublin, and headed to my hotel. It just so happened that one of my favorite bands from the states was playing in Dublin the night I arrived, so of course I got tickets. My same amazing tour guide from June would join me on this leg of the trip. We headed to the concert. It was at this really cool venue called Whelan's. If you have ever seen the movie PS, I love you (I definitely didn't accidently buy it one time) they filmed the scene where what's his name sings Galway Girl to what's her name. The venue was super intimate, and upon our arrival, we headed to as close to the stage as we could get, and we got super close. When I say close, I mean, I had to set my drink on the stage close. The concert was amazing, and one of the best shows I have seen the Lone Bellow put on. If you have never heard of them, check them out, they are so good. The next day, we packed up the car and took a weekend trip to Northern Ireland. The trip was a surprise to me, so I had no idea where we were going until we were out of Dublin and I could tell by the signs. We would be crossing into Northern Ireland. Our first stop was Londonderry, or Derry depending on which side of the border you are on. Derry is where the Bloody Sunday event happened. If you have ever heard the song Sunday Bloody Sunday by U2, this event is what they are singing about. On this day 14 people were killed by British Soldiers. It was an important event in Irish history and to see it from the perspective of the town where it happened was interesting. I learned a lot about the IRA and much about the history of this part of Ireland. We stayed a night in Derry, then headed out along the coast to The Giants Causeway. This is another beautiful section of the Ireland coast that I was so happy to see. We drove through coastlines, and made our way towards Belfast. Just outside of Belfast we stopped at a spot where apparently Game of Thrones was filmed. I have never seen the show, but the area was a really cool street with large trees on both sides of the road. It had been raining on and off the last day or so, and so there were large puddles on the side of the road, and I got a couple amazing shots of the trees reflecting in the puddles. We then arrived in Belfast. I was not sure what to expect of Belfast, but it was a beautiful city. We had dinner and then walked around a bit, found a pub, had a pint and called it a night. The next day we were supposed to do a tour of the city and visit the various street art. The tour company messed up, so we decided to try and do it ourselves. Similar to Derry, there was very interesting art on the walls depicting the history of Northern Ireland. We passed by the Harland and Wolff Shipyard where the Titanic was built. Belfast had a simple charm to it, and it is a city I would definitely like to spend more time in. We headed out of Belfast, to make our way back to Dublin. On our way back we stopped in a city called Carlingford. It was a seaside town and it had buzz to it that was just hard to explain. We went to a restaurant, had some amazing seafood, and watched people dance to live music. Then we made it back to Dublin, and went and watched some live Irish music. The next day was my last day there, and it was spent hanging out and cafe hopping. The next day I got up, and made my way to the airport to fly back to the states.
Back in the USA
After an amazing 3 months in Europe and making a lifetime worth of memories, it was time to head back to the states. I flew from Dublin to New York. I didn't have a plan as of my arrival in NYC. I wa either going to stay in NYC a couple days, or head to Chicago. After checking a few things out, I decided that Chicago would be a great place to visit and see some of my Chicago family. I flew that same day from NYC to Chicago, and stayed with my cousin Donna in downtown Chicago. We got to hang out, and I got to spend some quality time with her two daughters. The weekend was the kick-off of College Football and Notre Dame was playing Michigan at Notre Dame. My family does an amazing tailgate at Notre Dame games, so I got to spend time with them doing that, along with some other friends who were in town from AZ. It was a long day, but all and all a fun one as Notre Dame beat Michigan. It was labor day weekend, so we stayed at my Aunt and Uncle's cottage until Monday. On the Tuesday after Labor Day, I got on a flight to Cleveland to spend some time with my Uncle Dave in Ohio. It was great to spend some quality time with him. We ate some amazing meals, talked about life, and enjoyed each other's company. After a few days in Cleveland, it was time to head back to Arizona and see my family. I am now currently in Phoenix, and building my Crispy Pelican business.
An Ode To Summer
This summer was one of the best of my life. The experiences, relationships, and tribulations I went through this summer shaped me in a way that traveling in the past has not. I still have things to figure out, but spending this summer on the road, and making memories with those I care about most, has helped guide me as to what I want out of this thing we call life. I know my situation is unique and everyone can't just up and travel for a summer, but if you can get any sort of travel in, even just a week, do it, and let the experience open your mind and realize how beautiful this world is. Thanks for reading, peace and love.