Since I started Remote Year, I have had my eyes on visiting the Salt Flats in Bolivia. I knew when I was in Peru or Argentina, that would be my best chance. When it came time to organize the trip, it was decided that Peru would be the spot to leave from. Not only would Peru be the leaving spot, but also, I would head there on our transition day instead of heading to Córdoba with the group, which would be a first.
Salt Flats of Uyuni
I would be accompanied by my girlfriend and we would head to Bolivia the Friday night of our typical Remote Year travel weekend. Our flight was around 10PM and we would flight from Lima to La Paz Bolivia. This trip was one that took some strategic planning. We were going to the Salt Flats and doing it on travel weekend, so we had to have all our luggage with us instead of asking someone to take it for us. So, here is what we did. We got into La Paz at 1AM with all our luggage. We got through the Visa process which required some paperwork, and most importantly $160 in crisp US Dollars. We had a plan to ditch our luggage and only take our backpacks to the Salt Flats. Our flight for the Salt Flats was at 7:10AM so we had some time. We found a cab and explained in Spanish that we would like a ride to our hotel that we would be staying in when we get back to La Paz, drop our bags off there for them to hold for us and come back to the airport. We got in the cab, and took the 45-minute ride to our hotel and dropped off our bags, then got back to the airport around 3:30AM, with a few hours to kill before our flight. We were both tired, and wanted to try and rest our eyes. Low and behold, in the airport there was a place where you could pay for a bed to sleep in. I had never seen anything like this and we quickly decided this would be a great way to rest before our trek into the Salt Flats. We paid the man, and he lead us into a room that had a set of bunk beds in it. I hopped into the top bunk and quickly laid my head down. I had a little bit of a hard time falling asleep but finally did. We let the man know we would be out at 5:30AM and he had to knock hard on our door at that time to wake us up. We got out of there with a little bit of rest and hopped on our flight to Uyuni to start our 3 Day 2 Night trek of the Salt Flats and the area around it. We boarded a little plane, and after about a 45-minute flight we were in Uyuni. The airport is tiny, and has 2 gates. When they take your luggage off the plane, they load it on to a cart, and then manually pull the cart about 100 feet to the gate for you to get it. We arranged for a cab ride from our tour company and a man was standing there with a sign with our names on it. We headed to the office of Red Planet Expeditions where we would check in for our tour. We got the lowdown on our trek and prepped our stuff. We would leave in about 2 hours from there to start the journey.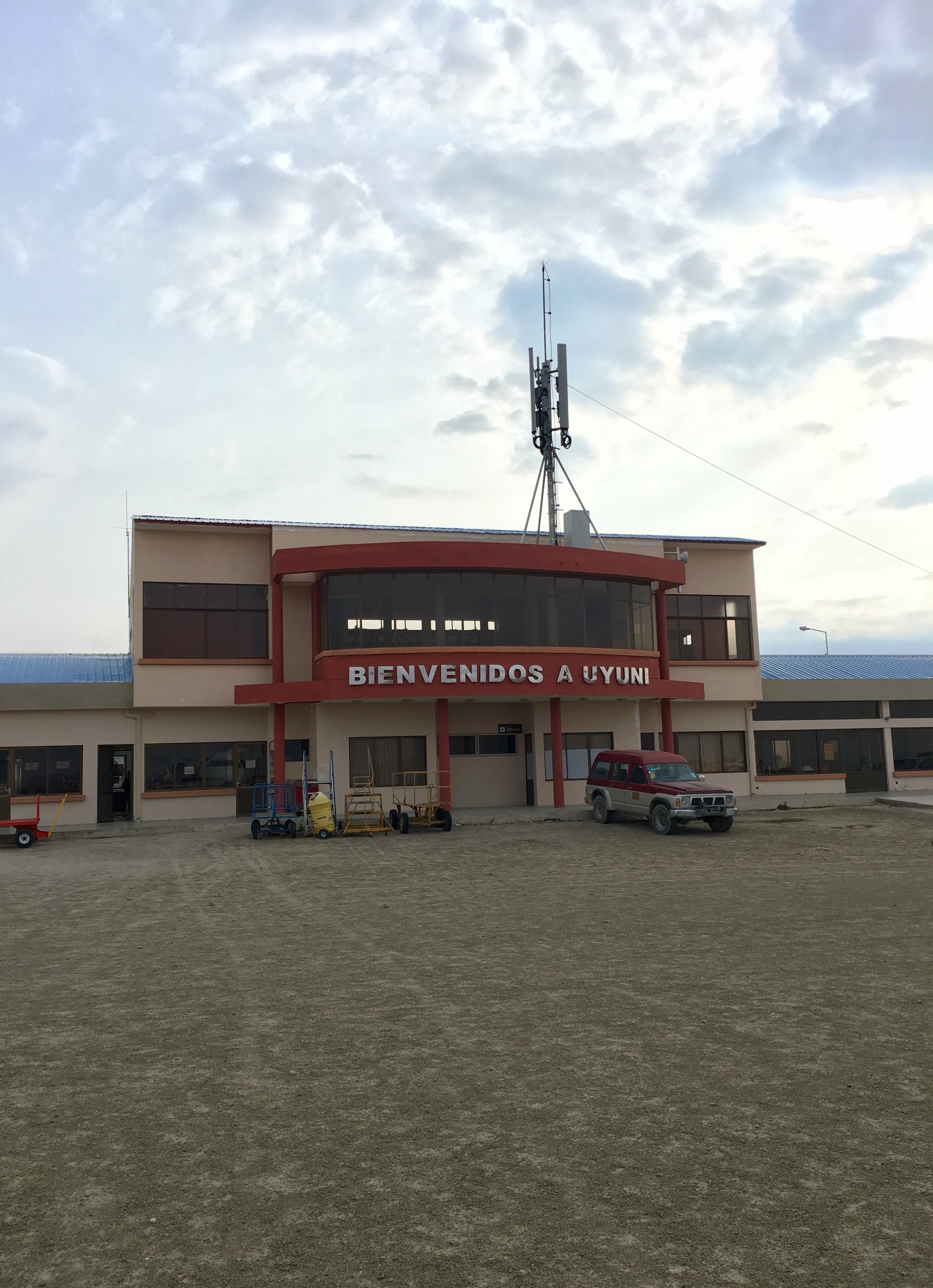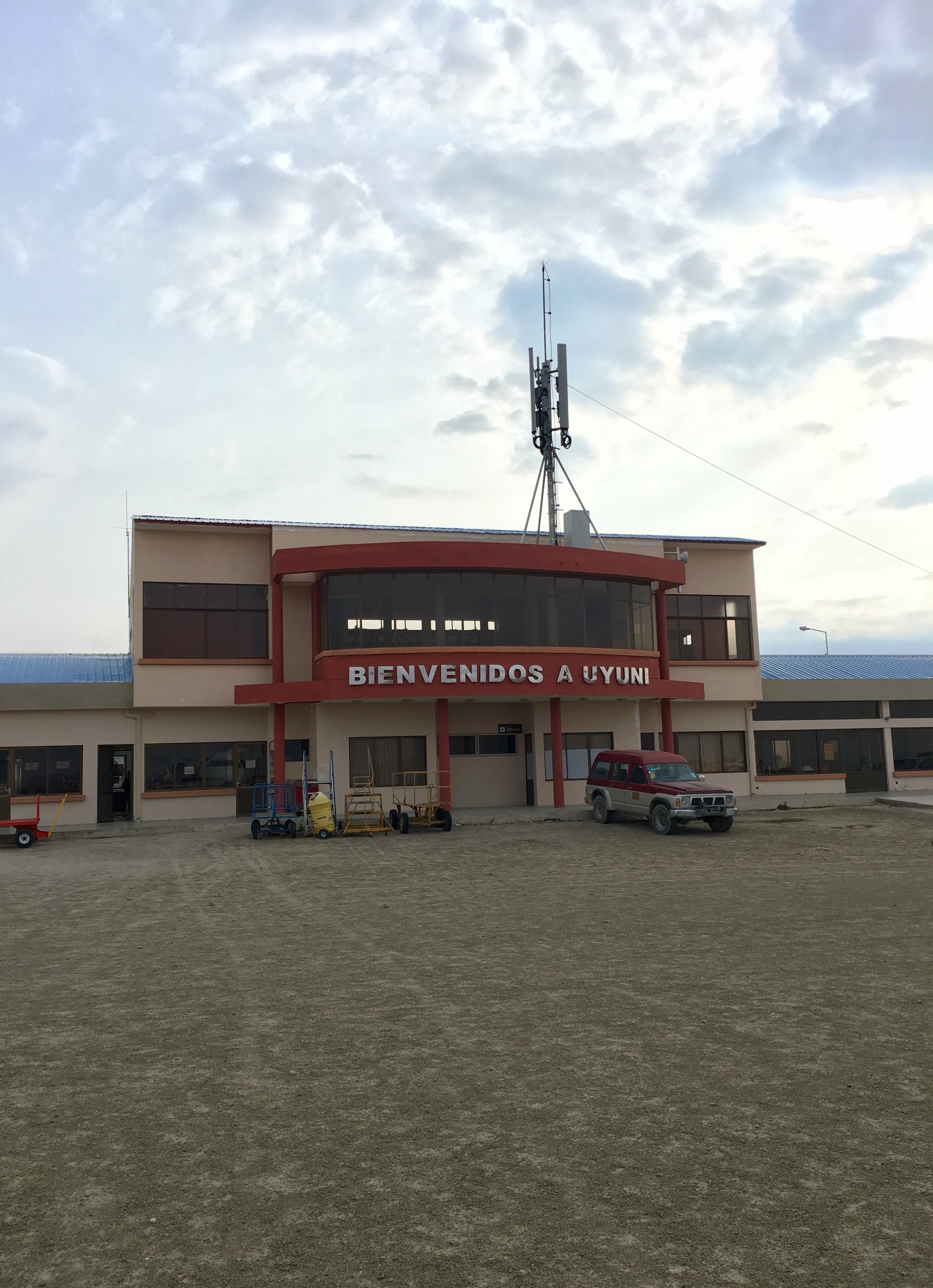 The time came, we loaded our stuff in a Toyota Land Cruiser and our group of 15 people took off in three different cars and headed toward our first stop on the trek, an abandoned train graveyard. We got there to find a long line of old trains that looked like they had not been used in a long time. They were covered in graffiti and showed their age by the distinctive layer of rust that covered them all. We took some photos and then got back in the Land Cruisers to make our way towards our lunch spot. We got there and our guides had prepared a simple chicken, vegetable, and pasta lunch for us. I was hungry from all the traveling and it hit the spot. We hung around a little bit, got a tour of a building where they break down the Salt, bag it, and sell it. We got to encounter a few locals, including a little boy and girl who were the keepers of the roadside bathroom. We got back in the Land Cruisers and started our way to the Salt Flats. I started to get more excited, knowing it would not be long before we would reach the Salt Flats.
The drive was about an hour, and we went from dirt roads, surrounded by mountains to slowly getting more and more on to the Salt Flats, as the mountains slowly got further away in the background. The more we drove the more dominant the Salt Flats got and eventually it looked as if we were driving on a frozen pond. It was an amazing site, and as I looked in every direction all I could see for miles and miles was Salt Flats. We continued driving and eventually got to our first stop. This was a chance to get out and just walk on the salt flats, take some awesome perspective photos and see the ground up close. We did a cool video of our group walking in and out of a Pringles can. We continued and got to the one hotel/restaurant that is in the middle of the flats. There was a cool statue there for the big race that occurred there and a large display of flags from all over the world. We were there for a bit and then it was time to make our way towards the reflection part of the flats and as a photo guy, I couldn't wait. We drove a little more and eventually started to see the ground showing more and more reflection. I was happy to see this, as it is not always there. We got out and did some more photo ops. It was beautiful and I was amazed at how beautiful the reflections were. After a little bit of time there, we were on our way to our next stop.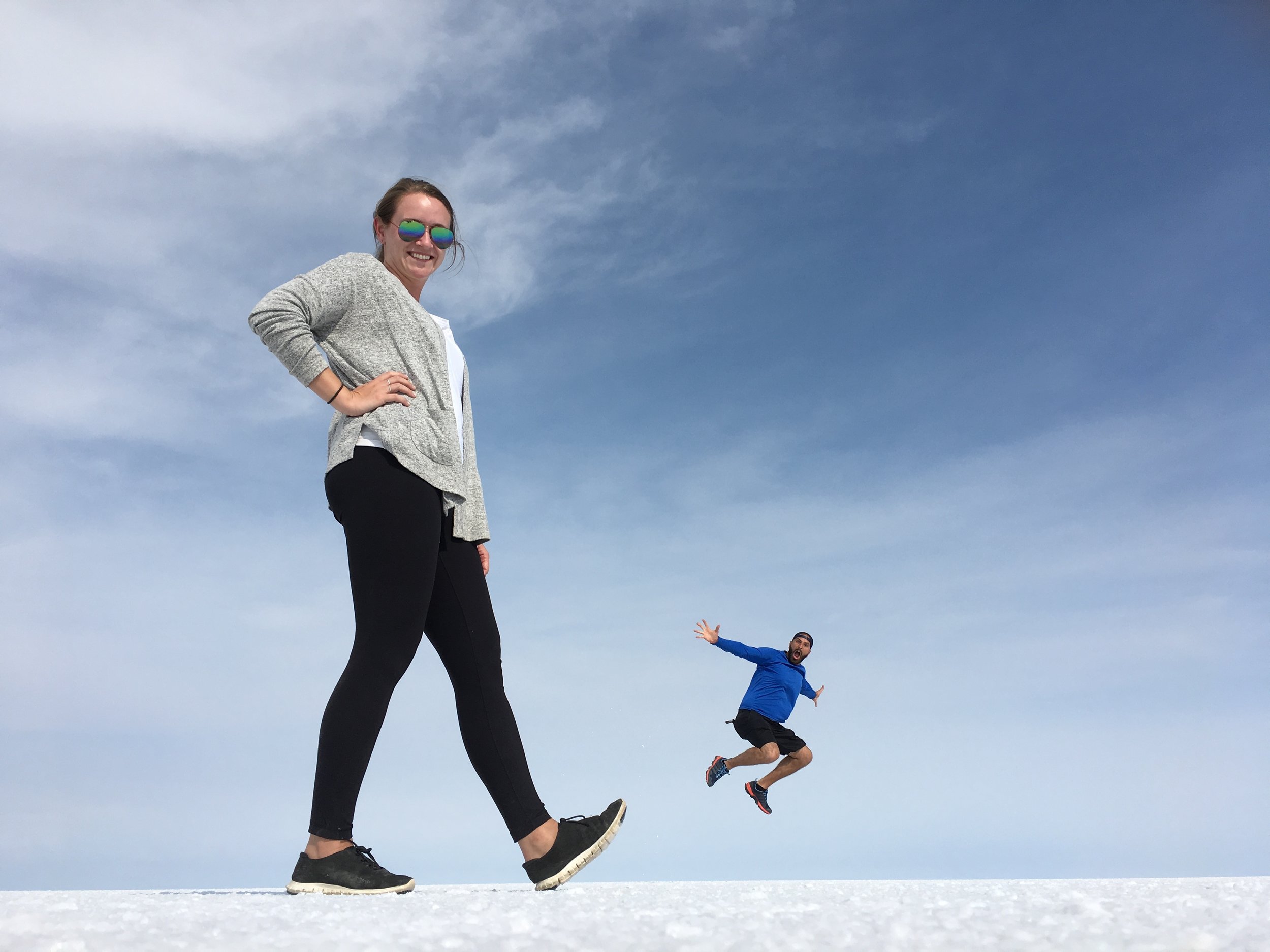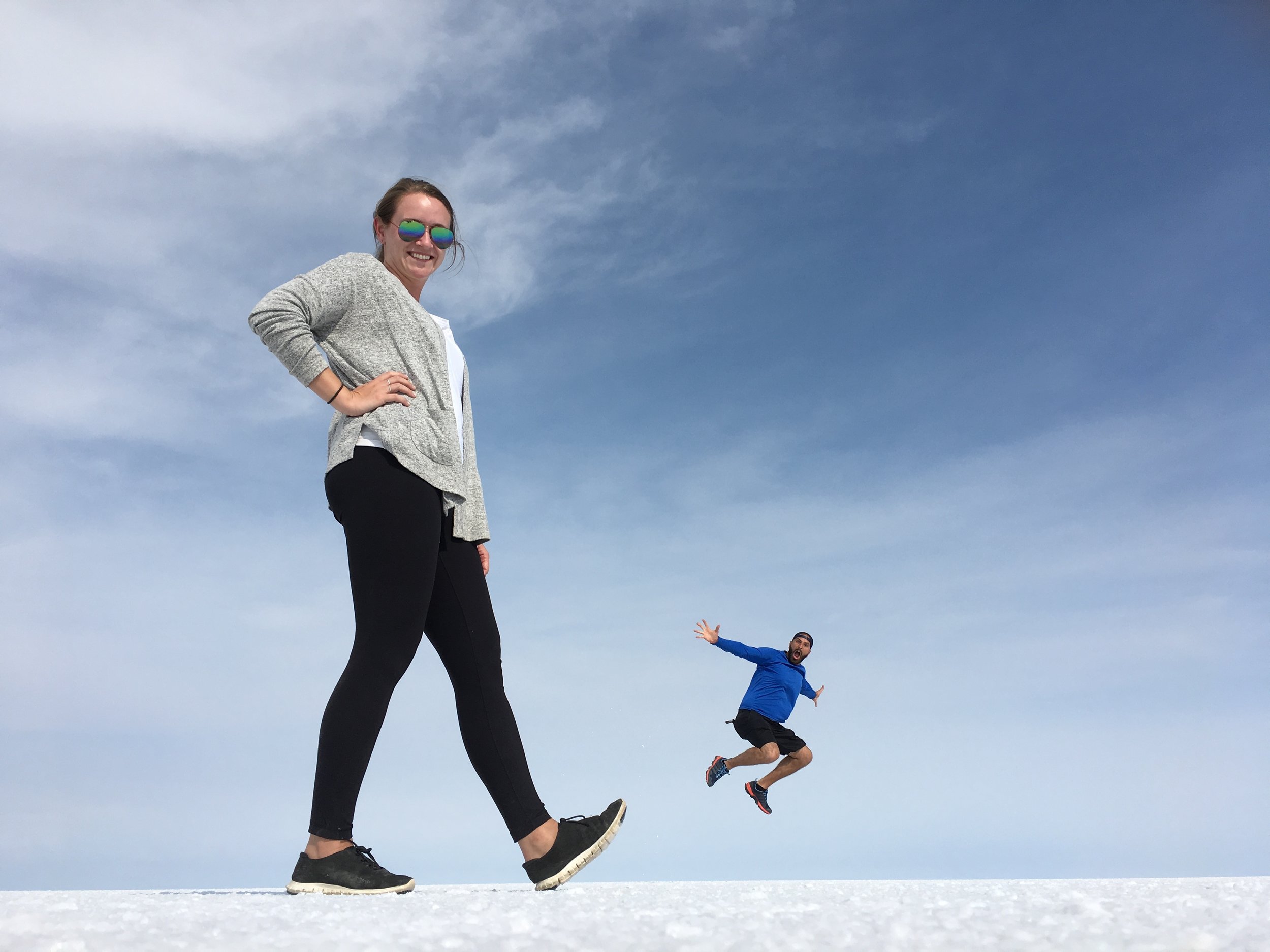 We drove for a while after the reflections and headed toward a crazy small mountain area in the middle of the flats. We could see it on the horizon as we approached and it was amazing that in this gigantic area of just white salt flats was a small mountainous area, completely covered in Cacti. We got out, and did a nice hike to the top of the range, taking in the scenery, and marveling at the fact that something like this could exist in the middle of the flats. By this time, the day had gone by and it was time to start heading towards the spot where we would watch sunset. We drove another 20 minutes or so and came to a spot where we could watch the sunset. It was a beautiful sunset, and the way the light hit the salt flats and revealed its distinct texture was a sight I will always remember.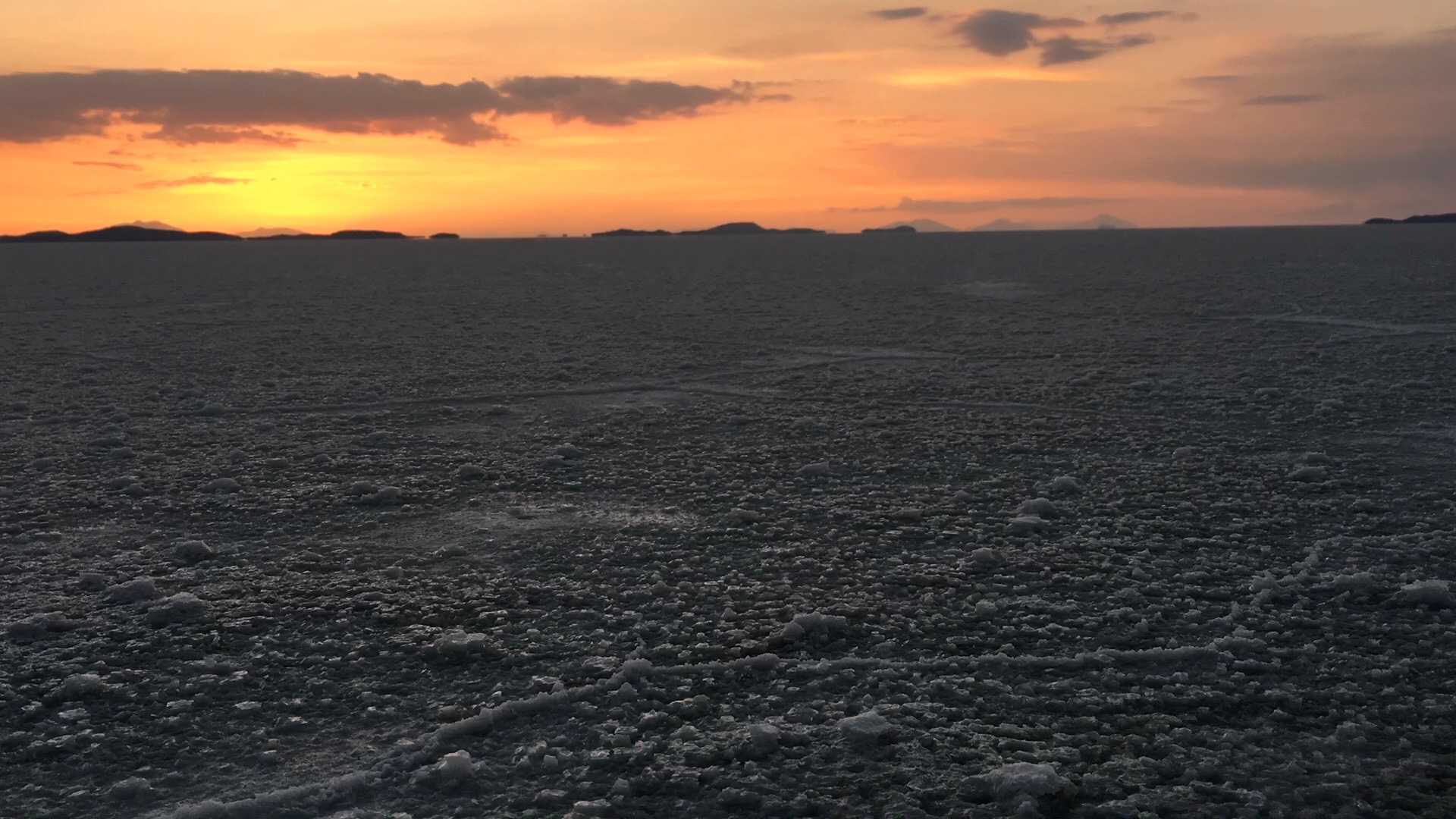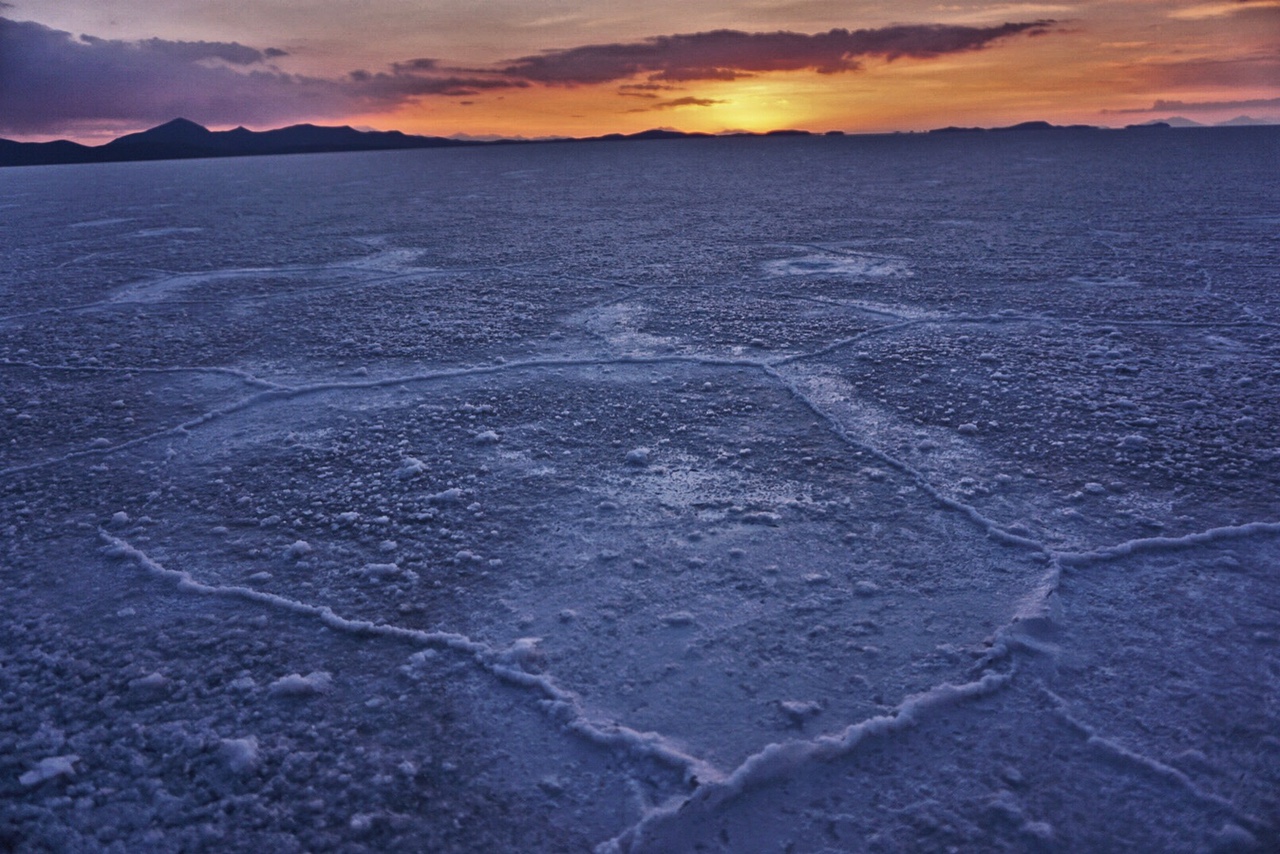 Once the sun was down, it was time to head to our resting spot for the night. We drove about 45 minutes, to the hostel we would be staying at. During our drive to this place, there were some heavy areas where the water had built up and it was as if we were driving in a small lake. We made it through all that, and got to our place. The place was nice for being in the middle of nowhere. We got settled, had a nice meal, drank some wine, talked about the day with the people in our group. We had to be up early, and headed to our room that had a gravel floor, and got a good night of sleep.
The next morning, we got up, had some breakfast and then loaded up the Land Cruisers and were on our way for 2 day which was to explore the beautiful land that surrounds the Salt Flats. This would consist of snow capped mountains, deserts, red lagoons, flamingos, hot springs, volcanic areas, and so many other beautiful landscapes. We would drive, stop, drive and stop, each time the terrain was a little different. We got a flat tire along the way and sat and looked a beautiful valley while our guides changed the tire. We spent our lunch sitting on the side of the road eating a great meal overlooking a large lake that had flamingos in it while snow capped mountains served as our backdrop. We drove on, finding ourselves at the Red Lagoon next. I had never seen anything like it, except on my computer as it served as one of the default pictures on my MacBook. It was windy and chilly, and we looked out into the lagoon, watching the flamingos and their funny walk make their way through the water. We got back in the Land Cruisers and headed towards our next stop an active geyser. We got to the geyser, and steam and smoke filled the air, like a rock concert. You could smell the sulfur, and the grey sludge around us was bubbling like something out of a movie. It was an amazing site and makes you wonder about how much is happening underneath Earth's surface.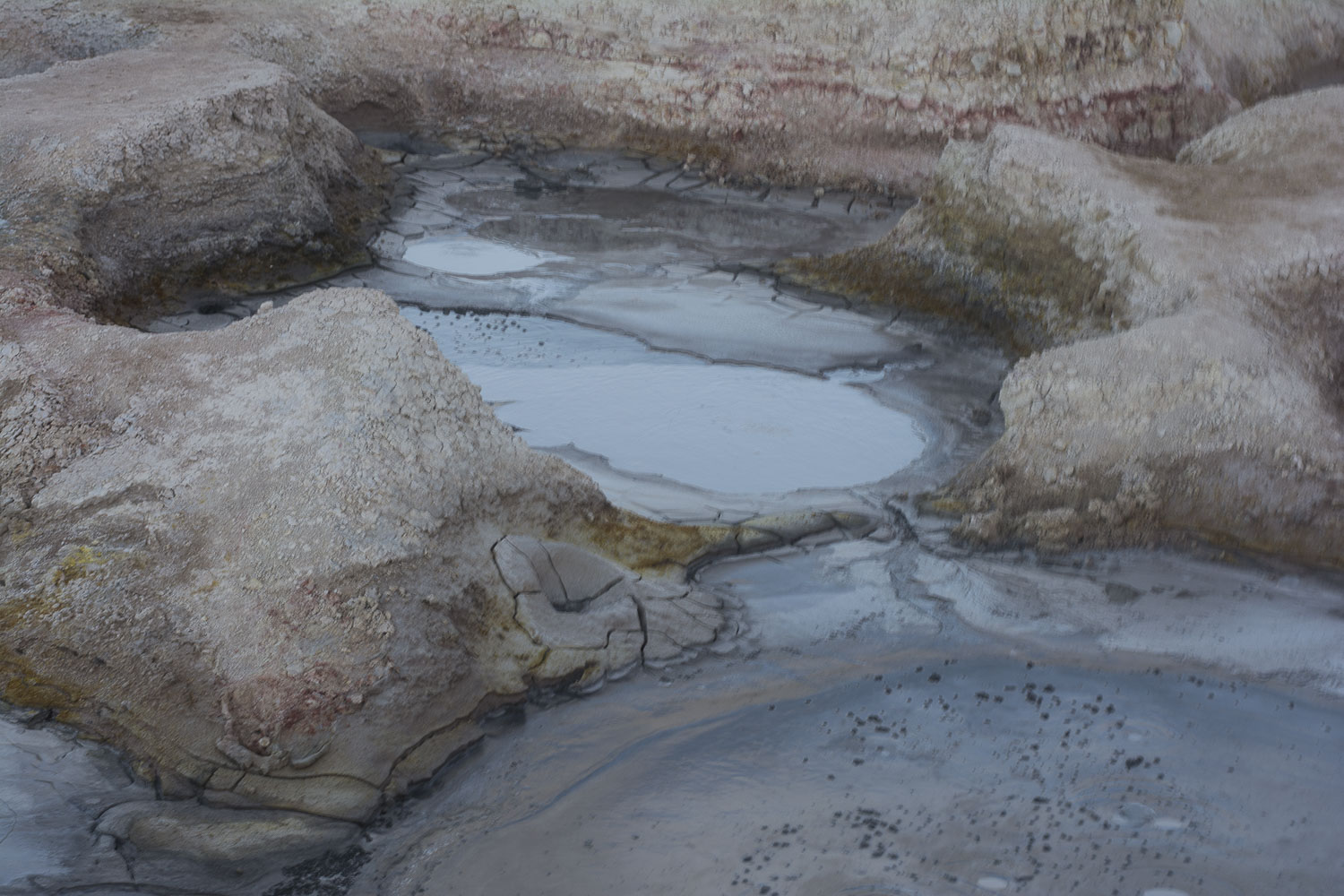 The next stop was our hostel for the night. We were told this one was not going to be nice. It wasn't too bad, and we had our typical meal, settled in our rooms, and then made our way to the hot springs that were located about a quarter mile from the hostel. The night air was cold and brisk and the idea of a hot spring sounded lovely. I braved the extremely chilly walk to the spring in only my bathing suit, a shirt and flip flops. I got there, took of my shirt, and flip flops, and made my way to the warm waters. It felt so good. Everyone staying in the surrounding hostels were there, and it was an eclectic mix of accents of people from around the world. The night sky was clear as could be and you could see every single star imaginable. We stayed in there a bit and then made our way back to fall asleep and rest up for the final day.
The morning came and it was time to load up and get on the road back to Uyuni. This would be a long day of driving. We got on our way and stopped in what is called the Dali desert. This is a beautiful area that is said to have influenced some of Salvador Dali's work. We then continued, making a few stops along the way including a lunch stop in a small town that was followed by a walk to a lagoon. We arrived back in Uyuni, said our goodbyes to our guides and walked through the city of Uyuni a little bit. We stumbled upon a pizza joint that was owned by an American from Boston. We got some pies, enjoyed the company of our group and then headed to the small airport. We got on the small plane, for the short flight and made our way back to La Paz. We were greeted at the airport by our hotel transportation and headed there. The next two days in La Paz were for us to explore and explore we did.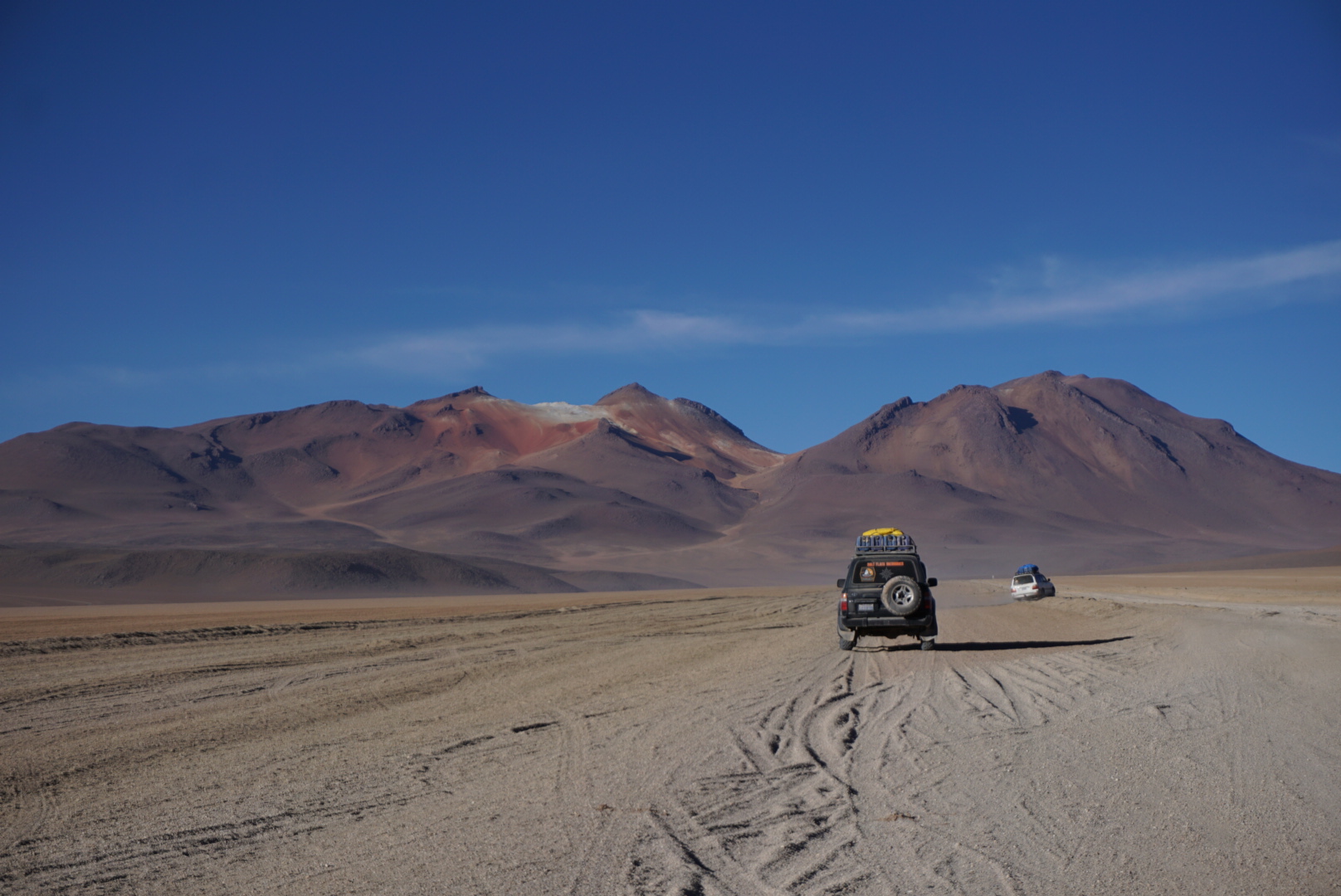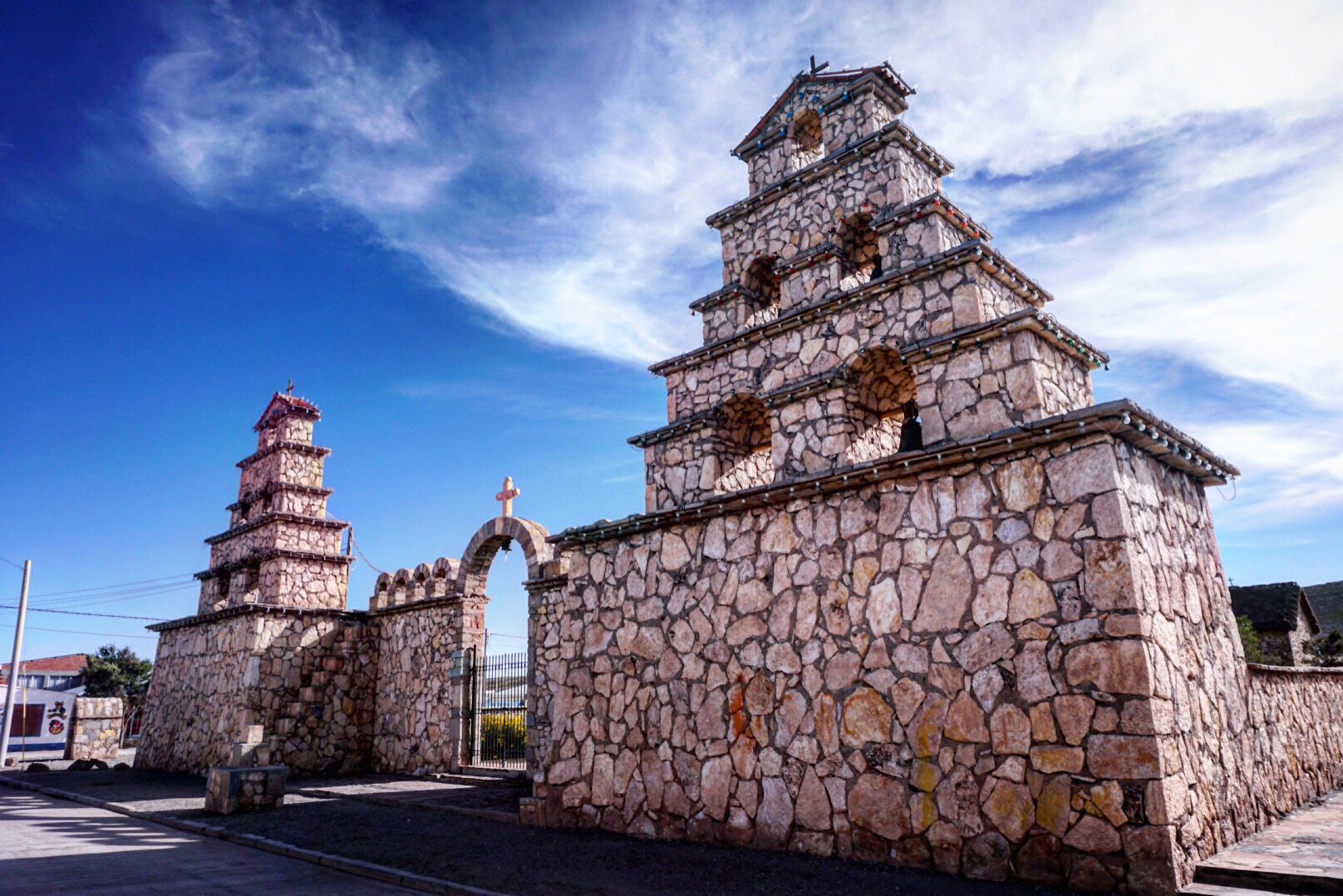 La Paz Day 1
The first day in La Paz consisted of catching up on some sleep, having some breakfast, and scheduling an afternoon Walking Tour that would take us to some unique parts of the city. The walking tour met at a restaurant at 2:30PM and would be about 4 hours long. The tour started by us hopping in a mini bus to our first destination. I had seen these mini buses in South America before but was never sure exactly what they were. They are independently owned and operated and each one has a route that they stick to. You can hop on at any point and get off at any point and it is a flat rate, that is very inexpensive. This is how a lot of locals get around and it was cool to experience one and understand how it works. Our first stop was the National Cemetery. This cemetery is in the heart of the city and is where over 200,000 people are laid to rest. The layout is not what you commonly think of a cemetery where people are buried in the ground. Here, the people are stacked in cement mausoleums and the grave sites go up and down and horizontally. The families decorate the graves with mementos that remind them of the person, and colorful flowers. Local artists paint artwork on the walls, and it makes for a truly beautiful place. Our guide said that Bolivians see death differently and try to focus on the celebration of life instead of the mourning of death. He also mentioned that people can take bodies from the cemetery, and put them in their home. They dress them up and it is said to be a way to protect their house. They do this when people stop paying to be in the cemetery. It was unique and a tradition I had never heard of before. Our next stop on the tour was to get on to the Telefrico and take it to another neighborhood in La Paz. The telefrico is a cable car system that is like the subway and people use it to get from spot to spot around town. It is a way for the people who live high up in the city to get home. It is well designed and they are doing more to create more lines to get a lot of different places in the city. The ride we took was to a part of town called El Alta. This is a part of La Paz that overlooks the city. It is home to a huge market that is over 400 blocks long, and is also home to where would go next, the witch market. The Bolivians are very superstitious people and believe in a lot of different things. The Witch Market area of the city is where people go to get things to help them with different aspects of life. This is also an area where you can get your fortune told. I did not get my fortune told, but my girlfriend did, and she was told she was going to die in two years. The fortune teller was quick to add that he could reverse the curse by sacrificing a small llama and performing another ritual for a price. She declined and will take her chances that he was wrong. The witch market was unlike anything I have ever seen and consisted of all sorts of the things that the Bolivians believe help take care of evil spirits and other things. After the witch market, we hopped on another mini bus and made our way back to where we started. We said goodbye to our guide and another couple we had met on our tour asked if we would like to get a drink, and we said yes. We sat down and had a couple drinks and talked about a lot of different things. They were currently on a sabbatical and traveling for a while. They were very nice and we were happy to have met them, and hoped our paths would cross again. The day was over and it was time to get home and rest up as the next day was going to consist of a bike ride down what was called "The Death Road"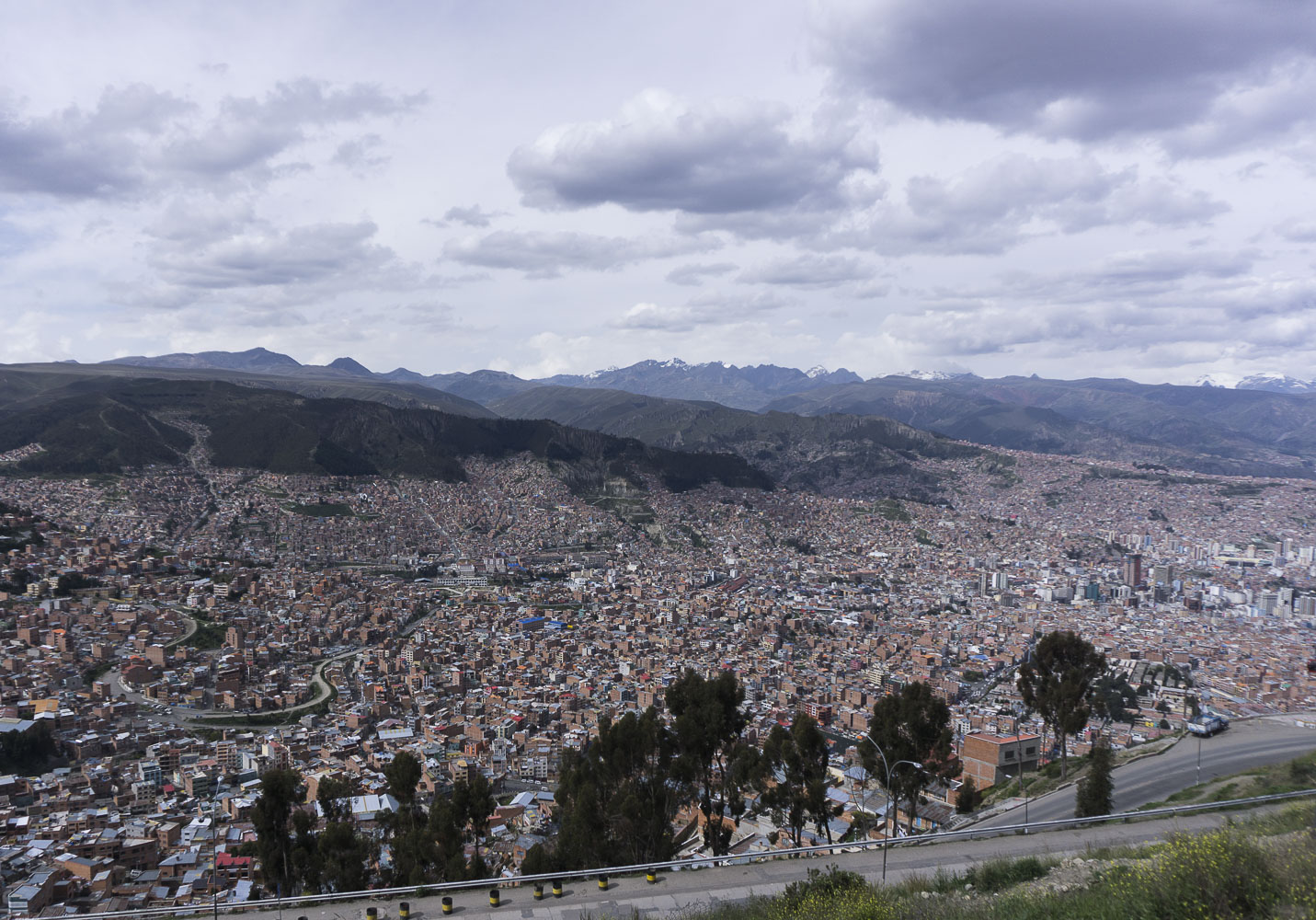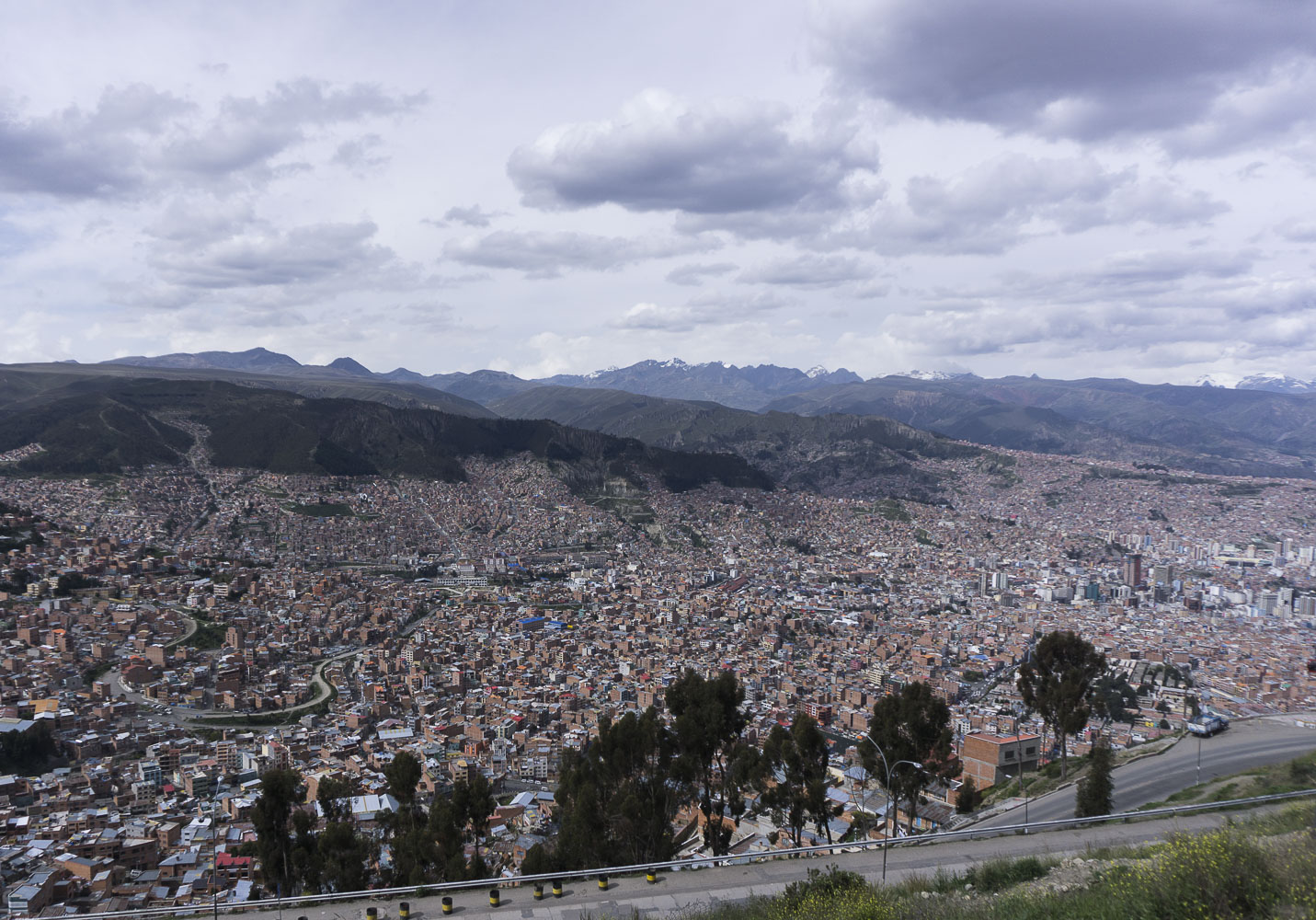 The Death Road
The Death Road, you hear that name and you don't think it is something you want to do, but you only live once right? The Death Road is a 40-mile trek that takes you down one of the smallest roads in the world on a mountain bike. You start at 15,260 feet and by the end you are down to 3,900 feet. It is hard, challenging and scary. I was hesitant to do it, but luckily was traveling with someone quite adventurous and whose excitement to do it brushed off on me. The day started by meeting at a restaurant at 7AM. We met our guides, and loaded up on a bus for an hour and a half trip to where we would start. One of the guys from our Salt Trip adventure was also in La Paz and tagged along with us as well. The whole time, the guide did a great job of explaining all that we would be doing and assuring us that all will be well if we stick to what he says. The more he talked, the more fear crept in and the more I wondered if I would die. I had never done mountain biking before and to do my first time in such an extreme manner seemed to to be a little crazy, but I found myself saying the phrase that I had said multiple times before on Remote Year, why not. We got to our starting point, got our gear on, and were given our bikes. We went through all the safety things again. The key thing to remember when doing this was which brake was your front and which was your rear. They specifically instructed us to use the rear break and front brake together. If you use one instead of the other, you run the chance of skidding out, or going over th front of the bike. It was recommended to use 50% on both brakes. It took some practice and memorization to get the brakes down. We then started the trek by doing a Bolivian tradition made up of a drink of theirs, which is ultimately pure alcohol. The first step is to take a shot of it, then you pour some on your bike and then you pour some on the ground to show your respect to Mother Earth or Pacha Mama as the Bolivians refer to her as. We got on our bikes and started. The first 15 miles of the trek are on a concrete road. You are going downhill, going fast, all while traffic is passing you both ways. This part was the scariest to me, and unfortunately early on, someone in our group lost control of their bike and broke their arm. Once we completed the concrete part, it was time to start the actual death road. The death road is 10 feet wide and consists of mostly rocky road. We started this part of the trek and it was indeed scary, and some points you look over the edge and just see the steep side of the cliff. I went a little heavy on the brakes, to make sure I didn't get going to fast and lose control. We stopped several times along the way to make sure everyone was ok, and of course take pictures. As we continued, I got more and more comfortable and found myself enjoying the thrill of riding down the Death Road. Luckily, no one else got hurt and we completed the whole entire trek. The end of the trek took us to a hotel at the bottom and we had celebratory beverages, and ate a nice meal. Once we did all that, we hopped on our bus for the long three-hour trek home. I was exhausted from the full day, but was so happy to have been able to do it. I slept good that night, and the next day, we would head to the airport to make our way back to Argentina to meet back up with our Remote Year family, the world had other plans though.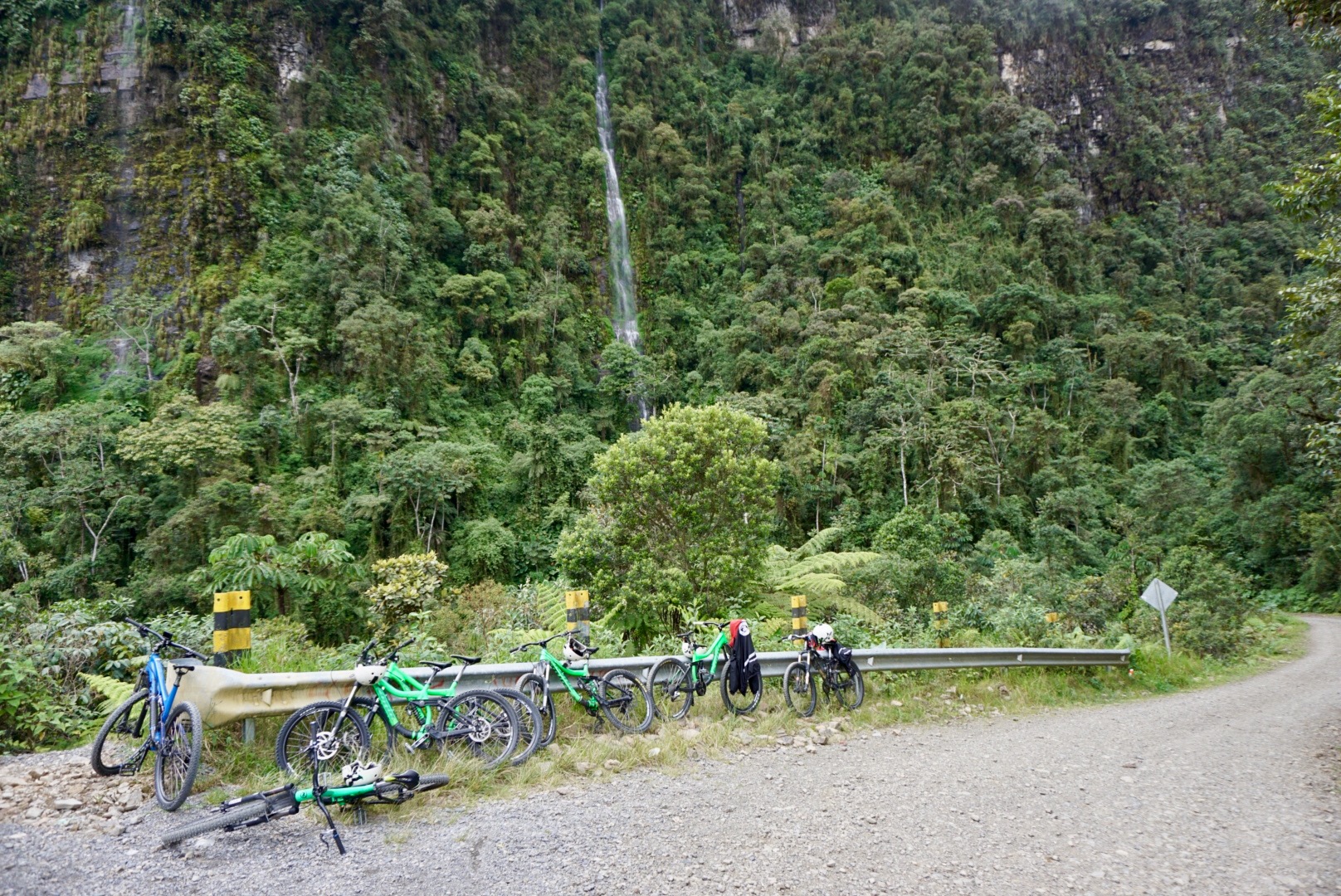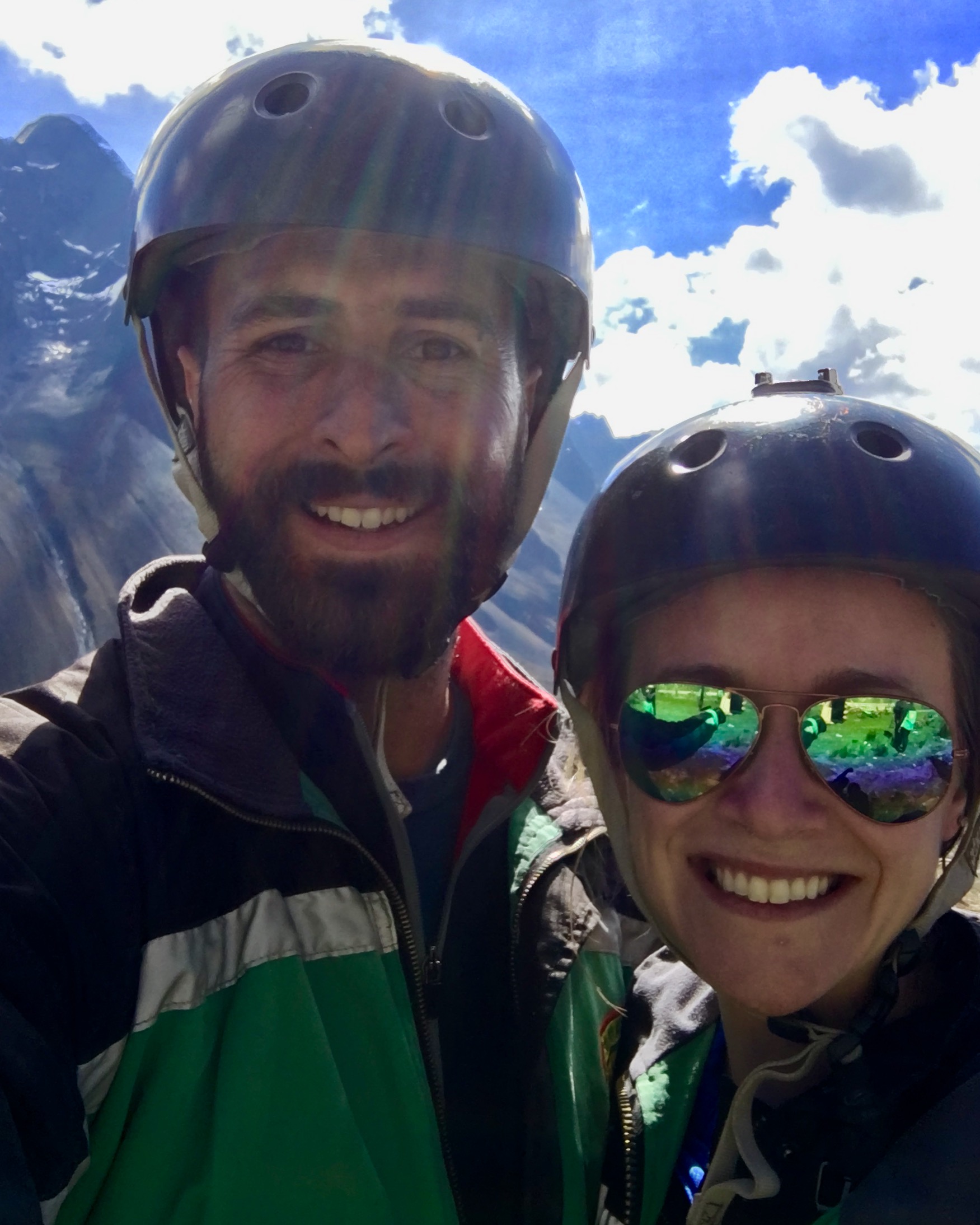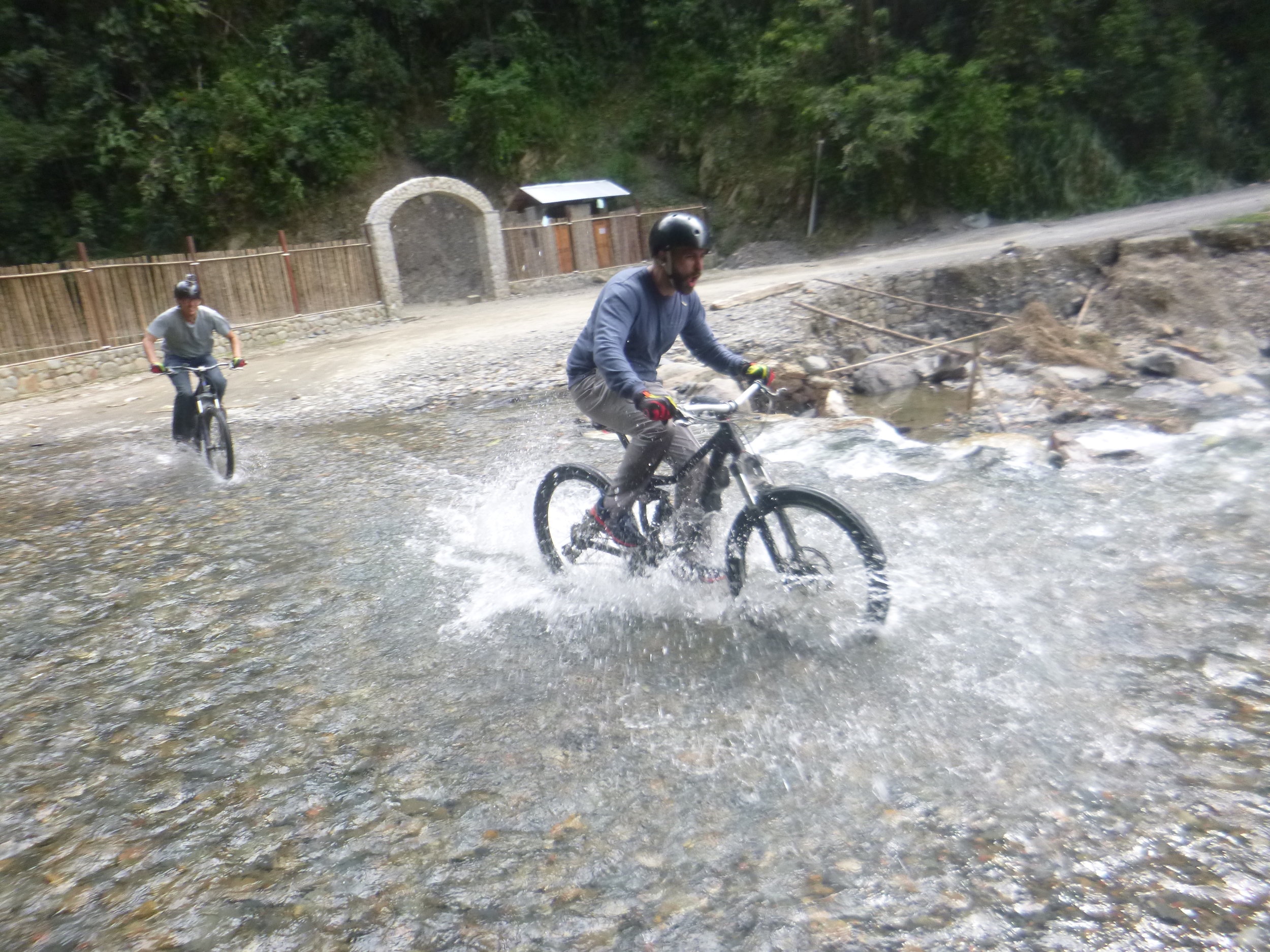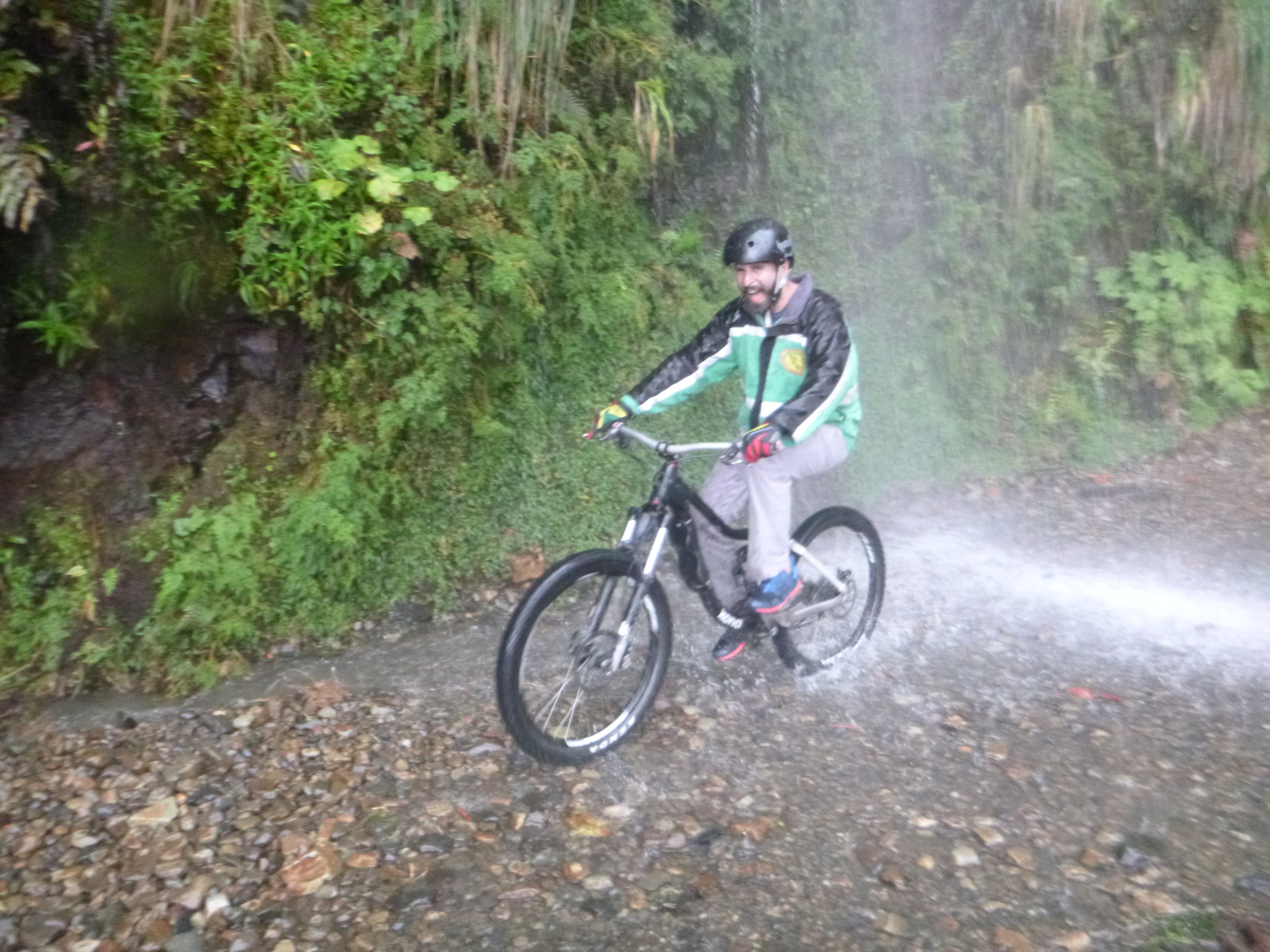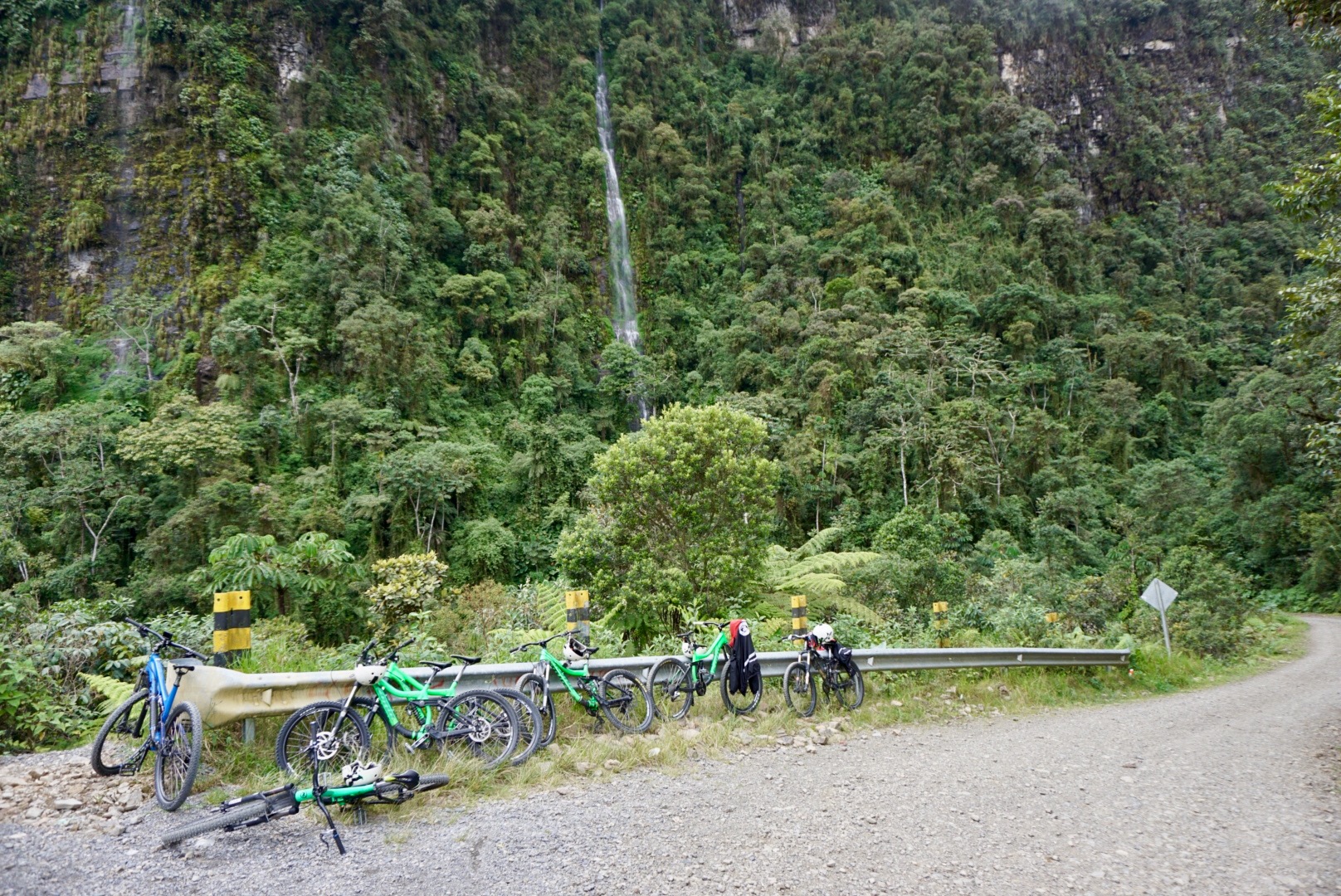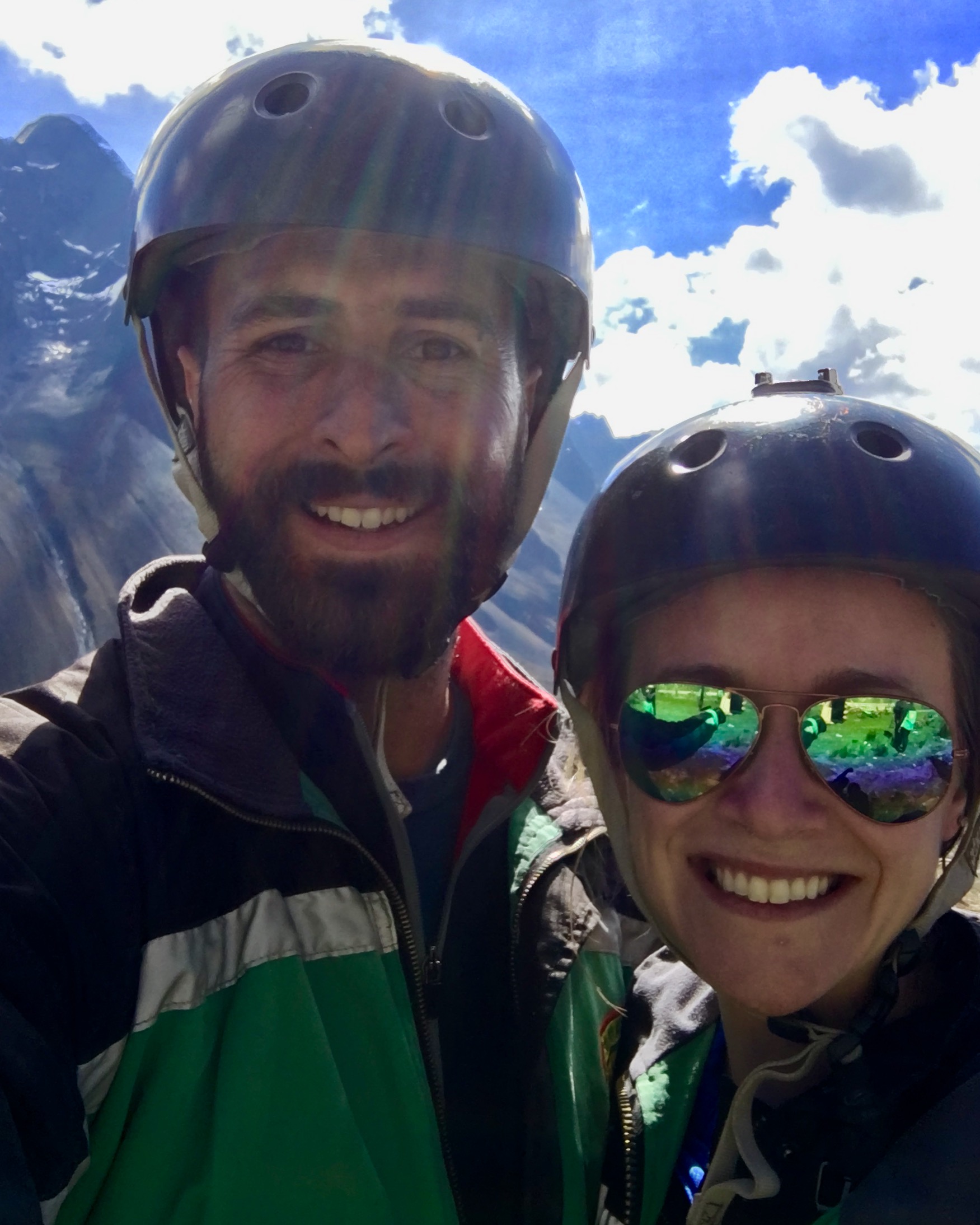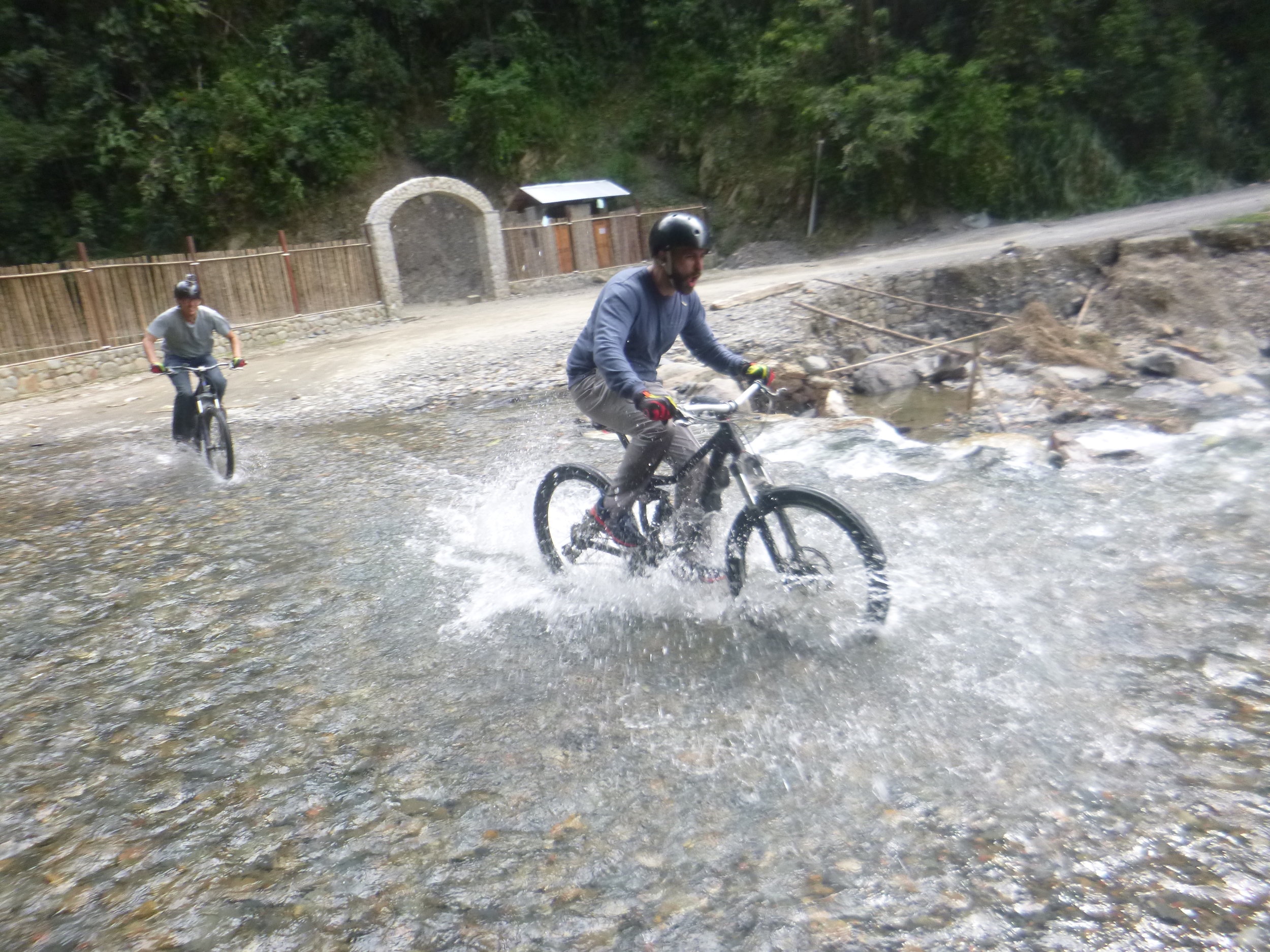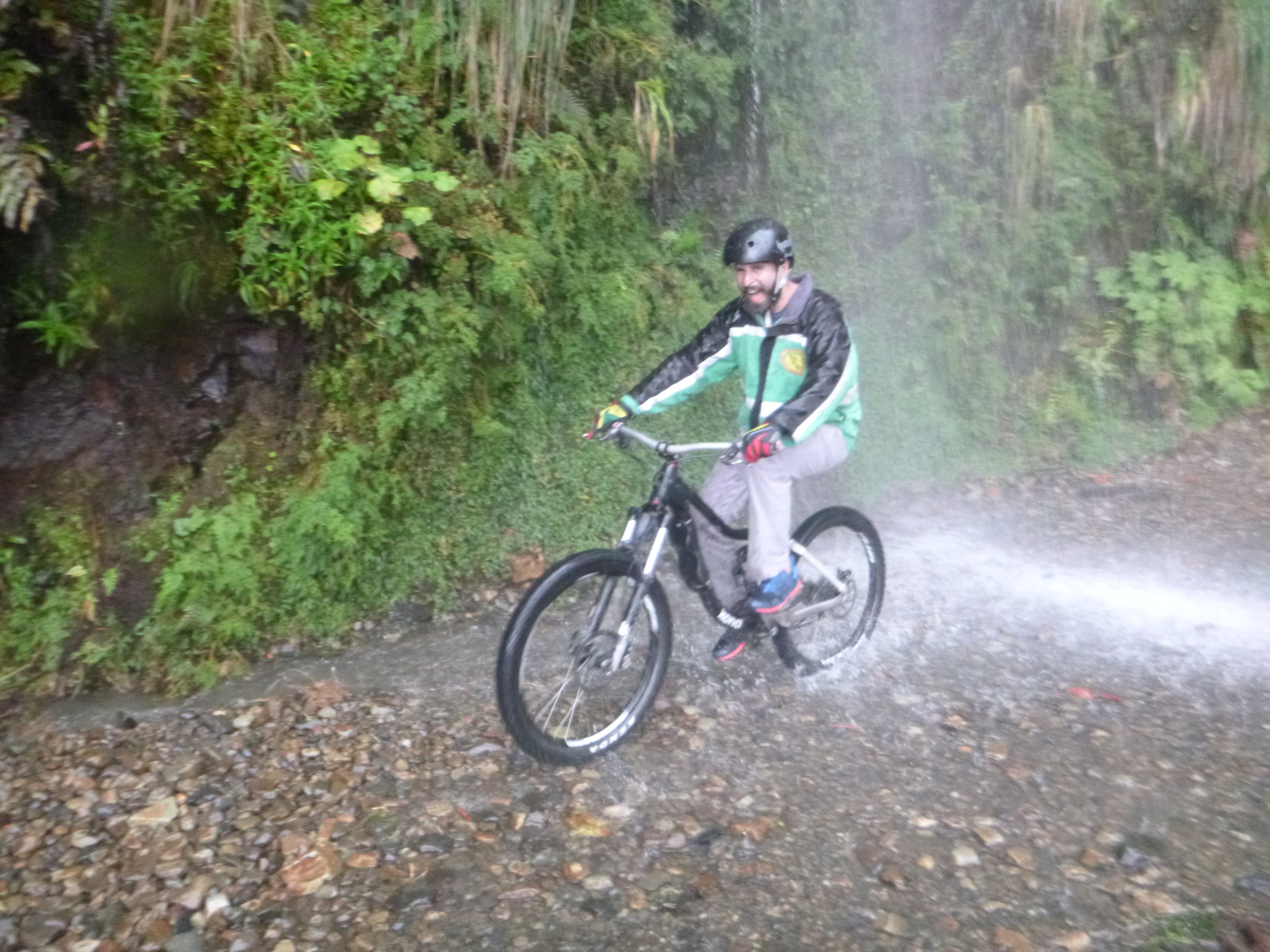 Travel to Argentina
Due to being too tired from the Death Road the day before, we never checked our flight to make sure everything was good. Well it turns out, things weren't ok, as there was a transportation strike in Argentina and our flight was cancelled. We didn't realize this until we went to check in. Luckily, we both can understand a basic amount of Spanish and the lady at the desk that spoke all Spanish to us, was able to explain our options to us. At first, she was just trying to brush us off and get us to Buenos Aires, and then was going to make us figure out our own way to Córdoba. Luckily, we asked several questions, and talked through it and she could eventually get us on flights to Córdoba, but not without stopping in Santiago, Chile first. We would fly to Santiago first and then would not be able to get a flight to Buenos Aires until the next morning, and then from there we would get a flight to Córdoba. Luckily, both of us are calm, and we could make the best of it all. We got to Santiago, got a room at the Holiday Inn right outside the airport, so we were going to be good to when we needed to be at the airport at 2AM for our 430AM flight to Buenos Aires. It all worked out, and we got to Córdoba, just a day late. This concluded this side trip to Bolivia. It was an amazing adventure filled with so many amazing experiences and memories that will stay with me forever. If you ever get the chance to get to Bolivia, especially the Salt Flats, I highly recommend it. If you would like to see some more pictures from my time in Bolivia. Please click the image below. Thanks for reading!